| Keyword | Case | Docket | Date: Filed / Added |

(26789 bytes)

(24268 bytes)
---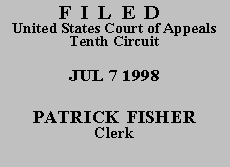 UNITED STATES COURT OF APPEALS
FOR THE TENTH CIRCUIT
---
DOLPHUS L. DAY,

Plaintiff-Appellant,

v.

KENNETH S. APFEL, Commissioner, Social Security Administration,(*)

Defendant-Appellee.





No. 97-6191

(D.C. No. 95-CV-242)

(W.D. Okla.)
---
ORDER AND JUDGMENT
(**)
---
Before KELLY, BARRETT, and HENRY, Circuit Judges.
---
After examining the briefs and appellate record, this panel has determined unanimously to grant the parties' request for a decision on the briefs without oral argument. See Fed. R. App. P. 34(f); 10th Cir. R. 34.1.9. This case is therefore ordered submitted without oral argument.

Claimant Dolphus L. Day appeals from the district court's order adopting the recommendation of the magistrate judge affirming the Secretary of Health and Human Services' denial of his application for Social Security disability insurance and supplemental security income benefits. Claimant, a forty-two-year-old man with a GED and some college, claims disability from November 19, 1988, due to diabetes, diabetic neuropathy, bulging disk, pain, and depression.

Claimant filed for benefits on February 24, 1989. Following a hearing before an administrative law judge (ALJ), his application was denied on August 27, 1990. This decision was vacated and remanded by the Appeals Council. A second denial on March 19, 1992, was also vacated and remanded by the Appeals Council. At a third hearing, the ALJ heard testimony from claimant, claimant's wife, a medical expert, and a vocational expert. Thereafter, the ALJ denied claimant's application at step four of the five-step evaluation sequence, see Williams v. Bowen, 844 F.2d 748, 750-51 (10th Cir. 1988), determining that claimant was capable of performing light work including his past relevant work as a pest control worker or photographer. The Appeals Council denied claimant's request for review, and the ALJ's decision became the final decision of the Secretary.

Our review of the Secretary's decision is limited to determining whether the decision is supported by substantial evidence and whether the Secretary applied correct legal standards. See Castellano v. Secretary of Health & Human Servs., 26 F.3d 1027, 1028 (10th Cir. 1994). "To find that the Secretary's decision is supported by substantial evidence, there must be sufficient relevant evidence in the record that a reasonable person might deem adequate to support the ultimate conclusion." Bernal v. Bowen, 851 F.2d 297, 299 (10th Cir. 1988). We may neither reweigh the evidence nor substitute our judgment for that of the Secretary. See id.

On appeal, claimant argues that the ALJ erred in determining that claimant retained the residual functional capacity (RFC) to perform his past relevant work. Although claimant's brief is not the optimum in organization and clarity, it appears that the thrust of claimant's argument is that the ALJ should have found claimant's mental impairment to be severe. He also contends that the ALJ failed to consider significant lay evidence, failed to properly consider his pain, and improperly relied on a consultative examination. We conclude that the record supports the denial of benefits in this case, and we affirm the district court's decision.

The ALJ found that claimant was an insulin dependent diabetic with evidence of peripheral neuropathy. His diabetes was described by Dr. Stephen G. Lindsey, claimant's treating physician, as "labile," or chronically difficult to control. Appellant's App., Vol. 2 at 324. Although Dr. Lindsey reported that claimant complained of severe pain associated with his neuropathy, he never diagnosed claimant with disabling pain. The only nerve conduction and electromyography testing performed on claimant was done on May 24, 1988. The testing showed "[m]inimal slowing of the conduction velocity for both tibial nerves and minimal slowing of the sensory conduction time for both median nerves across the wrist." Id. at 301. These findings were consistent with a diagnosis of "a mild generalized peripheral neuropathy which is probably secondary to [claimant's] Diabetes." Id.

An x-ray examination of claimant's back in February 1988, showed evidence of a minimal bulging disk, but no evidence of herniation. See id., Vol. 1 at 213. A CT examination by Dr. Richard G. Falk in November 1991, showed no degenerative disk disease. The examination did show a right posterolateral herniation of the disc at L5-S1 with no compression on the exiting or traversing nerve roots. See id. Vol. 2 at 356.

The ALJ concluded that claimant had a history of mental impairments. He evaluated claimant's mental impairments in accordance with 20 C.F.R. §§ 404.1520a and 416.920a, and found that, although claimant had a history of depression, it was controlled with tricyclic antidepressants, and, at the time of the hearing, his mental impairments did not significantly limit his ability to work.

First, claimant asserts that the ALJ erred in determining that claimant's mental impairment was not severe. Claimant asserts that "[t]he record varies a little bit from 1988 through 1994 concerning the severity of [claimant's] depression." Appellant's Br. at 14. The record, however, belies this assertion. In 1988, Dr. G. Paul Kula diagnosed claimant with "[m]ajor depression single episode without melancholia." Appellant's App., Vol. 2 at 292. He also opined that he could not rule out the possibility of a personality disorder. See id. On November 6, 1991, both Dr. Marcus S. Barker and Dr. Elizabeth A. Rasmussen saw claimant for a psychiatric and psychological evaluation. Dr. Barker opined that claimant had dysthymic reaction and what appeared to be fairly severe complications of diabetes. See id. at 329. Dr. Rasmussen performed psychological testing which placed claimant in the low average IQ range. She observed that he appeared to be in considerable pain. She concluded that, although claimant had cognitive and reasoning skills, and was capable of making decisions, he used hostility, sarcasm, and humor to cover up his depression. See id. at 334.

From February 1991, to December 1992, claimant received individual counseling at the Central Oklahoma Community Mental Health Center. The progress notes in the record indicate that claimant was feeling better on prozac and was not experiencing side effects. See id. at 441. In December 1992, when his individual counseling was terminated, his counselor reported that his depression was controlled. See id. at 463. At that time he was referred to group therapy which he was still attending at the time of his hearing.

At the request of the Secretary, claimant was evaluated by Dr. Harald S. Krueger on April 12, 1994. Dr. Krueger concluded that claimant's ability to reason and make occupational and social adjustments was good, and although his impression was that claimant had an adjustment disorder with depressed mood, his psychiatric prognosis was good. See id. at 486-87.

The ALJ found that, during a psychiatric evaluation in April 1994, claimant reported that he feeds animals, rides horses, watches television, reads, and helps his son with homework. Moreover, the ALJ found that claimant, who lives with his wife and child, pursued his photography hobby, taking pictures at rodeos on weekends and selling them to the cowboys. He stated that he lifts fifty pound bags of feed for his son's pony, drives, reads the Bible, and takes care of his son while his wife works. In fact, in July 1992, he injured his knee when he was hit by a bull, and in September 1992, he injured his arm in a fall from a horse.

Claimant argues that the "recitation of these activities is not inconsistent with an application for disability," and "does not go into enough detail concerning these activities." Appellant's Br. at 18. Claimant fails, however, to develop this argument. Contrary to claimant's contention, our review of the record indicates that claimant's mental status improved greatly from 1988 to 1994. In fact, at the third hearing, claimant testified that he had "improved, gotten better" with therapy and was less depressed on prozac. Appellant's App., Vol. 2 at 579. Therefore, we conclude that the ALJ's determination that his mental impairment was not severe was supported by substantial evidence.

Claimant asserts that the ALJ ignored certain lay evidence when determining claimant not disabled. Specifically claimant points to an October 1, 1990 letter written by the manager of a photography studio where claimant had worked who stated that claimant had missed a lot of work because of pain and illness. The studio manager also stated that claimant had trouble dealing with the other employees and customers. In an April 1, 1991 opinion offered by claimant's pharmacist, he stated that the medications claimant was taking to control his pain can cause both physical and mental impairments. The manager of a hotel where claimant was employed driving a van for a period of time, stated in a short, two-sentence letter that claimant had resigned the position for medical reasons.

In light of the ALJ's statement that his decision was based on "careful consideration of the entire record," id., Vol. 1 at 64, and because there is nothing in the record to indicate that the ALJ did not consider these statements, see Clifton v. Chater, 79 F.3d 1007, 1009-10 (10th Cir. 1996) (the record must show that the ALJ considered all the evidence presented, but the ALJ is not required to discuss every piece of evidence), we conclude that claimant's argument is without merit.

Next, claimant asserts that the ALJ did not properly evaluate his pain. Claimant argues that, although he is not asserting that his physical impairments meet or equal a listing "or that he is disabled solely due to documentable peripheral neuropathy," there is medical history that his neuropathy has caused pain. Appellant's Br. at 17. We do not disagree with this statement.

The ALJ evaluated claimant's subjective complaints of pain pursuant to 20 C.F.R. §§ 404.1529, 416.929, and Luna v. Bowen, 834 F.2d 161 (10th Cir. 1987). Because claimant does not challenge the ALJ's finding that his pain was not disabling with any cogent, developed argument, we cannot adequately review this issue. See Murrell v. Shalala, 43 F.3d 1388, 1389 n.2 (10th Cir. 1994) (perfunctory complaints which fail to frame and develop an issue are insufficient to invoke appellate review). We note that, at the time of the hearing, claimant testified that his neuropathy was "either in a rest or disappearing," and he was "feeling better now than [he had] in years." Appellant's App., Vol. 2 at 582. Therefore, we discern no error in the ALJ's determination that claimant's pain was not disabling.

Finally, claimant asserts that

the ALJ disregarded many medical reports indicating a significant level of depression and mental impairment including problems from chronic pain, and relied on a post-hearing 1994 report from a one-time examiner who performed no psychological test, who did not even have the records of the treating physician, and who cited a few vague activities which became a strong part of the ALJ's finding of non-severity concerning mental impairments.

Appellant's Br. at 21. We acknowledge that "[a]n ALJ is required to give controlling weight to a treating physician's opinion about the nature and severity of a claimant's impairments . . . if 'it is well supported by clinical and laboratory diagnostic techniques and if it is not inconsistent with other substantial evidence in the record.'" Bean v. Chater, 77 F.3d 1210, 1214 (10th Cir. 1995) (quoting Castellano, 26 F.3d at 1029). There is a voluminous record in this case, and even though we have thoroughly reviewed the record, we are without any citation to what medical evidence claimant asserts that the ALJ ignored and which of claimant's many consultative exams the ALJ allegedly relied on. Therefore, because claimant did not tie the relevant facts, supported by specific citation to the record, to his legal contentions, see United States v. Rodriguez-Aguirre, 108 F.3d 1228, 1237 n.8 (10th Cir.), cert. denied 118 S. Ct. 132 (1997), we deem the issue waived.

The ALJ concluded that claimant retained the RFC to perform, on a sustained basis, light work such as his past relevant work as a pest control worker or photographer. The ALJ's determination was based on claimant's own testimony as to the status of his neuropathy and his depression and a medical record that fails to reflect an impairment or combination of impairments that would preclude claimant from engaging in work activities. Therefore, we cannot say that the ALJ's decision was not supported by substantial evidence.

The judgment of the United States District Court for the Western District of Oklahoma is AFFIRMED.

Entered for the Court

Senior Circuit Judge
---
FOOTNOTES
Click footnote number to return to corresponding location in the text.
*. Effective March 31, 1995, the functions of the Secretary of Health and Human Services in social security cases were transferred to the Commissioner of Social Security. P.L. No. 103-296. Pursuant to Fed. R. App. P. 43(c), in the caption, Kenneth S. Apfel is substituted for John J. Callahan, former Acting Commissioner of Social Security, as the defendant in this action. In the text we continue to refer to the Secretary because she was the appropriate party at the time of the underlying administrative decision.
**. This order and judgment is not binding precedent, except under the doctrines of law of the case, res judicata, and collateral estoppel. The court generally disfavors the citation of orders and judgments; nevertheless, an order and judgment may be cited under the terms and conditions of 10th Cir. R. 36.3.
---

| Keyword | Case | Docket | Date: Filed / Added |

(26789 bytes)

(24268 bytes)
---
Comments to: WebMaster, ca10 [at] washburnlaw.edu.
Updated: July 8, 1998.
HTML markup © 1998, Washburn University School of Law.
URL: http://ca10.washburnlaw.edu/cases/1998/07/97-6191.htm.