| Keyword | Case | Docket | Date: Filed / Added |

(41639 bytes)

(22299 bytes)
---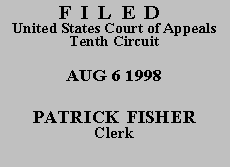 UNITED STATES COURT OF APPEALS
FOR THE TENTH CIRCUIT
---
BRYON D. PETERSEN,

Plaintiff-Appellant,

v.

CARBON COUNTY, a subdivision of the State of Utah; GENE STRATE, Carbon County Attorney; RICK ANDERSON, Confidential Informant 14, Carbon County Drug Task Force; WILLIAM D. BARNES, Sargeant, Price City Police Dept., Carbon County Drug Task Force; DON KELLY, Supervisor, Carbon County Drug Task Force; SCOTT JOHANSEN, Emery County Attorney; TERRY MARSHALL, Adult Probation and Parole; JOHN SCHINDLER, Chief Deputy Carbon County Attorney,

Defendants-Appellees.





No. 98-4010

(D.C. No. 92-CV-951-B)

(D. Utah)
---
ORDER AND JUDGMENT
(*)
---
Before BALDOCK, EBEL, and MURPHY, Circuit Judges.
---
After examining the briefs and appellate record, this panel has determined unanimously that oral argument would not materially assist the determination of this appeal. See Fed. R. App. P. 34(a); 10th Cir. R. 34.1.9. The case is therefore ordered submitted without oral argument.

Plaintiff Bryon D. Petersen, proceeding pro se, appeals from orders of the district court granting summary judgment to all defendants, except defendant Rick Anderson, against whom it entered a default judgment and awarded Mr. Petersen $1,000.00. We affirm.

The issues in this case arise from events that occurred after Mr. Petersen was charged in 1990 with four counts of distributing or arranging the distribution of a controlled substance, in violation of Utah Code Ann. § 58-37-8(1)(a)(ii). The charges were dismissed without prejudice when Mr. Petersen was convicted on unrelated felony charges. On appeal the conviction was reversed and the charges were dismissed with prejudice. See State v. Petersen, 810 P.2d 421, 427 (Utah 1991). The District Attorney then refiled the section 58-37-8(1)(a)(ii) drug charges. However, the state court dismissed the drug charges because possibly exculpatory physical evidence had been destroyed. See State v. Petersen Amended Order of Dismissal, No. 91-25 (April 1, 1992) (dismissing charges and noting that the state had exclusive control of evidence "which Defendant claims is exculpatory and/or would show that the State's primary witness was not truthful or at least biased in this matter [and which] was destroyed by the Plaintiff").

Mr. Petersen then commenced this action pursuant to 42 U.S.C. § 1983. He alleged that defendants had violated his rights to equal protection, due process, and to be free from cruel and unusual punishment because they had refiled the charges, destroyed the evidence, and used a confidential informant.

Mr. Petersen appeals the grants of summary judgment on these claims. He argues that the district court should not have granted defendants immunity. He also contends that the district court should have (1) permitted him to amend his complaint to cure any deficiencies, (2) appointed counsel, and (3) entered default judgment against defendant Marshall because his answer was untimely.

I. Immunity Rulings

We review the district court's immunity rulings de novo. See Gagan v. Norton, 35 F.3d 1473, 1475 (10th Cir. 1994) (absolute immunity); Radecki v. Barela, No. 96-2297, 1998 WL 334490, at *2 (10th Cir. June 24, 1998) (qualified immunity).

A. Absolute Immunity

Mr. Petersen sued Gene Strate and John Shindler, attorneys for Carbon County, because they filed the drug charges twice and because they authorized destruction of the evidence after the charges were initially dismissed. Mr. Petersen sued Scott Johansen, attorney for Emery County, for conspiring to have his "parole legally violated" despite knowing material evidence supporting the drug charges had been destroyed. R. Vol. 1, doc. 2 at 11.

The district court granted these defendants absolute immunity on the basis that their acts were taken in pursuit of their prosecutorial duties. See Imbler v. Pachtman, 424 U.S. 409, 427 (1976). We agree that the actions Mr. Petersen complains of were taken in the defendants' performance of "the traditional functions of an advocate." Kalina v. Fletcher, 118 S. Ct. 502, 510 (1997). No error occurred.

B. Qualified Immunity

Mr. Petersen sued William Barnes, a Sargeant with a city police department who participated in drug investigations, and Don Kelley, supervisor of the Carbon County Drug Task Force, on the basis that they did not fully investigate the facts, made no tapes of his actual involvement in drug deals, conspired to have the section 58-37-8(1)(a)(ii) charges filed against him, and retaliated against him for having his felony charges reversed by refiling the drug charges. He also alleged they violated his constitutional rights by using a confidential informant who was a felon and who is no longer being used as a confidential informant. Mr. Petersen alleged Terry Marshall, a parole agent for the state department of corrections, improperly initiated parole revocation proceedings against him based on the drug charges. The district court granted these defendants qualified immunity.

To determine whether the district court correctly granted these defendants qualified immunity, we must first examine whether Mr. Petersen "allege[d] the violation of a clearly established constitutional right." Siegert v. Gilley, 500 U.S. 226, 231 (1991). If Mr. Petersen has alleged such a violation, we will then look at whether the constitutional right was clearly established at the time the alleged violation occurred. See id. at 232; County of Sacramento v. Lewis, 118 S. Ct. 1708, 1714 n.5 (1998).

None of the acts taken by defendants Barnes and Kelley indicate any constitutional violation. They investigated possible drug violations. The record contains no information that they conducted these investigations in any unconstitutional manner. The Constitution does not require that drug transactions be taped. The use of a confidential informant with a criminal history does not violate constitutional strictures. See, e.g., United States v. Wesevich, 666 F.2d 984, 985 (5th Cir. 1982) (noting that as "confidential informants are generally involved in illegal activities themselves and hence are not model citizens whose trustworthiness is above reproach," any testimony given by these individuals at trial must "be carefully scrutinized" with "full cross examination").

Defendant Marshall's initiation of parole revocation proceedings prior to any conviction on the charges leading to his action did not violate any constitutional guarantees. See, e.g., United States v. Cantley, 130 F.3d 1371, 1376 (10th Cir. 1997) (noting that, as defendant had not yet been convicted, state had to set forth additional evidence to show he violated his parole conditions), cert. denied, 118 S. Ct. 1098 (1998); Perry v. United States Parole Comm'n, 831 F.2d 811, 813 (8th Cir. 1987) (Parole Commission may consider dismissed charges as grounds for parole revocation).

Defendants did not violate any clearly established law. Therefore, the district court properly granted qualified immunity to these defendants.

Mr. Petersen appears to have sued Carbon County on the grounds that it was responsible for instituting the policies which lead to the county employee defendants' unconstitutional acts. As these defendants engaged in no unconstitutional acts, Mr. Petersen cannot show any government policy or custom that lead to a constitutional violation for which the county should be held responsible. See Winters v. Board of County Comm'rs, 4 F.3d 848, 855 (10th Cir. 1993) (county's liability can be established by showing constitutional violation was the "result of a government custom or policy") (citing Monell v. Department of Social Servs., 436 U.S. 658, 694 (1978)).

II. Motions Rulings

A. Motion to Amend

Mr. Petersen correctly asserts that the district court never explicitedly ruled on his motion to amend his complaint. However, the district court's order granting defendants' motions for summary judgment and entering default judgment against defendant Anderson impliedly denied his motion to amend. See Drake v. City of Fort Collins, 927 F.2d 1156, 1163 (10th Cir. 1991).

Fed. R. Civ. P. 15(a) requires that leave to amend a complaint "shall be freely given." Therefore, the "district court must justify its denial of a motion to amend with reasons such as futility of amendment or undue delay." Bauchman ex rel. Bauchman v. West High Sch., 132 F.3d 542, 559 (10th Cir. 1997) (citing Foman v. Davis, 371 U.S. 178, 182 (1962)), cert. denied, 118 S. Ct. 2370 (1998). However, the court's failure to give reasons is considered harmless error where the reason for the denial is apparent. See Drake, 927 F.2d at 1163. Further, we are "free to affirm a district court decision on any grounds for which there is a record sufficient to permit conclusions of law, even grounds not relied upon by the district court." United States v. Sandoval, 29 F.3d 537, 542 n.6 (10th Cir. 1994).

The record supports denial of the motion to amend. Mr. Petersen did not include a copy of the proposed amended complaint, but stated in his motion that he wished to add more details regarding the defendants' involvement in the complained of acts. As we have already determined that none of the acts Mr. Petersen complained of involved constitutional violations, the addition of more details could not assist Mr. Petersen's cause. "[A]ny amendment would be futile." Grossman v. Novell, Inc., 120 F.3d 1112, 1126 (10th Cir. 1997). The district court did not abuse its discretion in denying Mr. Petersen's motion to amend his complaint.

B. Motion for Default

We review the denial of a motion for default judgment for abuse of discretion. See Panis v. Mission Hills Bank, N.A., 60 F.3d 1486, 1494 (10th Cir. 1995). The entry of a default judgment is a harsh sanction and resolution of disputes on the merits is strongly favored. See Ruplinger v. Rains (In re Rains), 946 F.2d 731, 732 (10th Cir. 1991) . Therefore, default judgment is normally "available only when the adversary process has been halted because of an essentially unresponsive party" and "the diligent party must be protected lest he be faced with interminable delay and continued uncertainty as to his rights." Id. at 732-33 (quotation omitted).

Mr. Petersen moved for default before defendant Marshall had been served. Marshall was not timely served because Mr. Petersen had not provided his correct address. Until a defendant is properly served, the defendant has no duty to answer or make other motions. See Fed. R. Civ. P. 12(a)(1)(A) (defendant must serve answer "within 20 days after being served with the summons and complaint"). As defendants have no duty to plead until properly served, entry of default prior to service is improper. See Fed. R. Civ. P. 55(a) (clerk shall enter default, when party against whom judgment is sought has failed to plead); see, e.g., Camp v. Guercio, 464 F. Supp. 343, 346 (W.D. Pa. 1979) (court would not enter default judgment for failure to file timely answer where evidence was conflicting as to whether amended complaint was ever served on defendant). The district court did not abuse its discretion in denying the motion for default judgment.

C. Motion for Appointment of Counsel

"We review the denial of appointment of counsel in a civil case for an abuse of discretion." Rucks v. Boergermann, 57 F.3d 978, 979 (10th Cir. 1995). The district court may appoint counsel for an indigent plaintiff if, under the totality of the circumstances, the denial of counsel would result in a fundamentally unfair proceeding, see McCarthy v. Weinberg, 753 F.2d 836, 839-40 (10th Cir. 1985), considering the merits of the claims, the nature of the factual issues, the litigant's ability to present the claims, and the complexity of the legal issues, see Rucks, 57 F.3d at 979.

The district court did not abuse its discretion in denying Mr. Petersen's motion for appointment of counsel. His claims are without merit and, therefore, the proceeding was not fundamentally unfair absent appointment of counsel.

The judgment of the United States District Court for the District of Utah is AFFIRMED. The mandate shall issue forthwith.

Entered for the Court

Circuit Judge
---
FOOTNOTES
Click footnote number to return to corresponding location in the text.
*. This order and judgment is not binding precedent, except under the doctrines of law of the case, res judicata, and collateral estoppel. The court generally disfavors the citation of orders and judgments; nevertheless, an order and judgment may be cited under the terms and conditions of 10th Cir. R. 36.3.
---

| Keyword | Case | Docket | Date: Filed / Added |

(41639 bytes)

(22299 bytes)
---
Comments to: WebMaster, ca10 [at] washburnlaw.edu.
Updated: August 7, 1998.
HTML markup © 1998, Washburn University School of Law.
URL: http://ca10.washburnlaw.edu/cases/1998/08/98-4010.htm.