| Keyword | Case | Docket | Date: Filed / Added |

(25449 bytes)

(21702 bytes)
---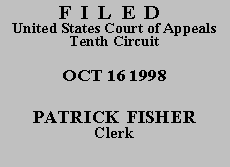 UNITED STATES COURT OF APPEALS
TENTH CIRCUIT
---
---
ORDER AND JUDGMENT(*)
---
Before ANDERSON, McKAY, and LUCERO, Circuit Judges.
---
After examining the briefs and appellate record, this panel has determined unanimously that oral argument would not materially assist the determination of this appeal. See Fed. R. App. P. 34(a); 10th Cir. R. 34.1.9. The case is therefore ordered submitted without oral argument.

Terrence Bridgeforth seeks a certificate of appealability to challenge the district court's decision dismissing his 28 U.S.C. § 2254 petition as untimely. In order to obtain a certificate of appealability, Bridgeforth must make a substantial showing of the denial of a constitutional right. See 28 U.S.C. § 2253(c)(2). On this record we are unable to make the necessary determination due to procedural difficulties in the proceeding below. Accordingly, we vacate the district court order and remand for further proceedings.

Section 2254 claims are subject to a one-year statute of limitations which went into effect on April 24, 1996. See 28 U.S.C. § 2244(d). Bridgeforth's state court convictions became final on appeal on November 15, 1994. We have held that for persons like Bridgeforth whose convictions became final on or before April 24, 1996, § 2254 petitions must be filed before April 24, 1997. See, e.g., Miller v. Marr, 141 F.3d 976, 977 (10th Cir. 1998).

Bridgeforth has been incarcerated at all relevant times during the filing and pendency of his § 2254 petition. A prisoner's petition is deemed filed on the date he delivers it to prison authorities for mailing. See Houston v. Lack, 487 U.S. 266, 270 (1988); Dunn v. White, 880 F.2d 1188, 1190 (10th Cir. 1989) (applying the Houston rule to prisoner filings in district court). Although we have declined to apply this rule where prisoners place filings in the regular, as opposed to the legal, prison mail system, see United States v. Leonard, 937 F.2d 494, 495 (10th Cir. 1993), we have applied it when they place filings in a prison's legal mail system or in a prison's only mail system, see Swoboda v. Dubach, 992 F.2d 286, 288-89 (10th Cir. 1991). Recent amendments to the Federal Rules of Appellate Procedure codify Houston v. Lack for notices of appeal placed by prisoners in a prison's "internal mail system." Fed. R. App. P. 4(c); Fed. R. App. P. 25(a)(2)(C). Nothing in the record before us explains either the mailing system in place where Bridgeforth was incarcerated or its availability to Bridgeforth.

Bridgeforth's petition was dated April 21, 1997, accompanied by a notarized "Pauperis Affidavit" dated April 22, 1997. It was sent on an unknown date to the United States District Court for the Eastern District of Oklahoma, where it was received by the court clerk on April 29, 1997. On April 30, 1997, the clerk stamped the petition filed, but on behalf of the court notified Bridgeforth that the petition must be resubmitted on a prescribed form, properly executed. The clerk noted further that the petition was insufficient because it was not accompanied by the required $5.00 filing fee or a motion to proceed in forma pauperis, with the required declarations. The clerk ordered Bridgeforth to correct these deficiencies before May 20, 1997, "and [to] resubmit [the petition] to the court for review." Civil Mins., R., Tab 3. This order, which was tantamount to a 20-day extension of time, included a directive to the clerk to send Bridgeforth "a new petition for completion and an instruction sheet along with this minute order." Id. This form petition, filled out by Bridgeforth, was received by the clerk on May 22, 1997, accompanied by Bridgeforth's own "Certificate of Mailing" dated May 15, 1997­apparently well ahead of the May 20 deadline. Thereafter the case was transferred to the Western District of Oklahoma.

On June 23, 1997, the case was referred to a magistrate judge, who two days later ordered the state to respond. On July 15, 1997, the state filed a "Motion to Dismiss for Lack of Jurisdiction," asserting that the petition was filed after the one-year deadline prescribed in 28 U.S.C. § 2244(d). In its accompanying arguments the state made no mention of Bridgeforth's April filing, arguing instead that "[a]s petitioner did not file his federal habeas petition until May 22, 1997, his claims are now time-barred." Br. in Supp. of Mot. to Dismiss, R., Doc. 8 at 3. The state made no reference to, and engaged in no analysis of, the applicability of Houston v. Lack. Bridgeforth alleges that he never received a copy of this motion; in any case he did not respond to it immediately.

Twenty-three days later, on August 7, 1997, the magistrate judge submitted a report and recommendation to the district court advising that the petition be dismissed for untimeliness. The magistrate judge reasoned that Bridgeforth had failed to respond to the state's motion to dismiss as required by the court's Local Rule 7.1(e), which states in relevant part, "[a]ny motion . . . which is not opposed within eighteen (18) days may, in the discretion of the Court, be deemed confessed. The Court may shorten or lengthen the time in which to respond." W.D. Okla. R. 7.1(e). In a footnote, the magistrate judge also noted that Bridgeforth had not supplied any information which would require the court to consider the applicability of Houston v. Lack, stating that Bridgeforth had "not presented the Court with any arguments or supporting facts to show whether the petition should be deemed timely filed." Rept. and Recom., R., Doc. 10 at 4 n.5.

The magistrate judge's report and recommendation advised Bridgeforth of his right to file objections before August 22, 1997. Bridgeforth then submitted a "Motion to Reconsider" accompanied by his own "Certificate of Mailing" dated August 14, 1997. The clerk ultimately received and filed this document on August 25, 1997. In it, Bridgeforth argued that his original April filing was timely under Houston v. Lack because he gave the petition to a prison official for mailing on April 22, 1997.

On October 31, 1997, the district court entered a one-page order summarily adopting the magistrate judge's report and recommendation "[u]pon de novo review" and dismissing Bridgeforth's petition. Order, R., Doc. 13. In its order the court construes Bridgeforth's "Motion to Reconsider" as his objections to the report and recommendation, and states that it "has carefully reviewed petitioner's objections."(1) Id. But the court's order does not specifically address the objections, in particular the invocation of Houston v. Lack as to the filing date of the petition, and the application of Local Rule 7.1(e)--or a waiver thereof--in view of Bridgeforth's response. Thorough review of timely objections to a magistrate's report is a requirement. See Summers v. Utah, 927 F.2d 1165, 1167-68 (10th Cir. 1991).

To the extent that the district court may have relied on Local Rule 7.1 to dismiss the petition, without findings, under these circumstances, it abused its discretion. See, e.g., id. at 1167. The rule by its very terms makes dismissal discretionary, and we have held that in such circumstances district courts must consider "(1) the degree of actual prejudice to the defendants; (2) the amount of interference with the judicial process; and (3) the culpability of the litigant." Murray v. Archambo, 132 F.3d 609, 611 (10th Cir. 1998) (quoting Hancock v. City of Oklahoma City, 857 F.2d 1394, 1396 (10th Cir. 1988)); see also Green v. Dorrell, 969 F.2d 915, 917 (10th Cir. 1992) (citing Meade v. Grubbs, 841 F.2d 1512, 1519-22 (10th Cir. 1988)). These three factors are weighed against "the judicial system's strong predisposition to resolve cases on their merits." Green, 969 F.2d at 917; see also Murray, 132 F.3d at 611; Miller v. Department of Treasury, 934 F.2d 1161, 1162 (10th Cir. 1991); Meade, 841 F.2d at 1520. There is no indication that either the magistrate judge or the district court conducted any such analysis.

"Dismissal is a harsh sanction and should be resorted to only in extreme cases." Meade, 841 F.2d at 1520 (quoting Meeker v. Rizley, 324 F.2d 269, 272 (10th Cir. 1963)). In Meade we held that even where a pro se plaintiff had actual notice of a similar local rule (giving 15 days to respond to a motion), dismissal with prejudice for violation of the rule was an abuse of discretion absent a "clear record of delay or contumacious conduct." Id. at 1522. Here, the magistrate judge's report came only five days after the local rule's deadline, and there is no indication that Bridgeforth was even aware of the rule, much less that he was culpable or that the state was prejudiced.

There were ample opportunities to avert this procedural quagmire. The state would have done well to cite the local rule in its motion, thereby putting Bridgeforth on notice of the need for a very prompt response. The magistrate judge (although not required to do so) could have notified Bridgeforth of the rule instead of speedily proceeding with his recommendation for dismissal.

More to the point, the state was presumably aware of the prison mailing/filing rule, but did not refer to it or attempt to assist the court by gathering information on a point which was obviously relevant in view of the dates on the petition and affidavit. And even more directly to the point, the district court did not address the question, which was expressly raised in Bridgeforth's objections. The file forwarded to us from the clerk's office provides no assistance, such as including the envelopes in which the petitions were mailed, showing dates of mailing.

We have previously used a lenient standard of proof in applying Houston v. Lack. See, e.g., Hoggro v. Boone, 150 F.3d 1223, 1226 n.3 (10th Cir. 1998) (finding copy of prison mailing receipt sufficient). The well-established nature of the rule causes it to appear most often in unpublished opinions.(2) The rule is especially apposite here in view of the Supreme Court's admonition that "[d]ismissal of a first federal habeas petition is a particularly serious matter, for that dismissal denies the petitioner the protections of the Great Writ entirely, risking injury to an important interest in human liberty." Lonchar v. Thomas, 517 U.S. 314, 324 (1996). This admonition does no violence to the newly enacted one-year statute of limitations, since the statute is not jurisdictional and equitable tolling principles apply. See Miller v. Marr, 141 F.3d 976, 978 (10th Cir. 1998).

In short, the facts as to timeliness in this case need to be developed, analyzed, and ruled upon by the district court. The date problems are multiple on this record, and they are accompanied by such further issues as whether the initial April filing date is the official date despite an apparent extension of time and in view of irregularities which were later corrected, see, e.g., Parissi v. Telechron, Inc., 349 U.S. 46, 47 (1955) (late submission of filing fee not enough to defeat otherwise timely filing), and whether, in any event, equitable tolling applies according to accepted principles (which would not include simple procrastination, for instance), see Miller, 141 F.3d at 978.

We emphasize that nothing in this opinion is intended to express our views with respect to the outcome on the merits of further review by the district court. We note that Mr. Bridgeforth has a history of late filing extending back into his litigation in the state courts. It is difficult to believe that Mr. Bridgeforth's extensive experience with the litigation process has not educated him on the need for adequate proof of timely filing. For instance, the record does not indicate that he presented the district court with a certificate of service or a prison mailing receipt. Bridgeforth's claims regarding the circumstances of mailing have not only come late, beginning first with an objection to the magistrate's report and recommendation, but they have continued to expand in an afterthought fashion. Thus, his original reference to delivery to prison authorities ultimately changed to the name of the specific person allegedly involved, and Bridgeforth's brief on appeal then claims a further dimension of willful delay on the part of that individual. It is, of course, too late to raise those kinds of allegations on appeal for the first time, and we decline the invitation to consider them.

Accordingly, we GRANT the certificate of appealability, VACATE the order of the district court, and REMAND this case to the district court for further proceedings.

ENTERED FOR THE COURT

Stephen H. Anderson

Circuit Judge
---
FOOTNOTES
Click footnote number to return to corresponding location in the text.
*.This order and judgment is not binding precedent, except under the doctrines of law of the case, res judicata, and collateral estoppel. The court generally disfavors the citation of orders and judgments; nevertheless, an order and judgment may be cited under the terms and conditions of 10th Cir. R. 36.3.
---
1.We take these statements also to mean that the court considered the objections timely filed.
2.See, e.g., Chambers v. Gunter, 993 F.2d 1551, 1993 WL 147477, at *1 n.1 (10th Cir. May 5, 1993) (unpublished table decision) (finding prisoner's assertion sufficient in absence of other evidence); Johnson v. Shillinger, 7 F.3d 1045, 1993 WL 389468, at *2 n.3 (10th Cir. Oct. 5, 1993) (unpublished table decision) (finding prisoner's assertion, corroborated by generic entry in prison mail log, sufficient); United States v. Warner, 54 F.3d 788, 1995 WL 307586, at *1 (10th Cir. May 11, 1995) (unpublished table decision) (finding certificate of service sufficient); Lamb v. Hargett, 69 F.3d 548, 1995 WL 649706, at *1 n.3 (10th Cir. Nov. 6, 1995) (unpublished table decision) (finding certificate of mailing sufficient); McKnight v. White, 68 F.3d 483, 1995 WL 607623, at *1 n.4 (10th Cir. Oct. 16, 1995) (unpublished table decision) (finding certificate of mailing and notarization sufficient).
---

| Keyword | Case | Docket | Date: Filed / Added |

(25449 bytes)

(21702 bytes)
---
Comments to: WebMaster, ca10 [at] washburnlaw.edu.
Updated: October 19, 1998.
HTML markup © 1998, Washburn University School of Law.
URL: http://ca10.washburnlaw.edu/cases/1998/10/97-6396.htm.