| Keyword | Case | Docket | Date: Filed / Added |

(23236 bytes)

(19107 bytes)
---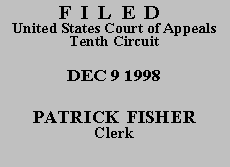 UNITED STATES COURT OF APPEALS
TENTH CIRCUIT
---
JAIME SASA,

Plaintiff-Appellant,

v.

ARISTEDES ZAVARAS, and Major John Doe; LT. ROMANSKI; SGT. McQUEEN, OFFICER WEATHERILL, Commanding Officer; OFFICER RODRIGUEZ, Commanding Officer; OFFICER SCHUYLER, Commanding Officer; GREGORY VENDETTI, Commanding Officer,





No. 98-1210

(D.C. No. 95-K-854)

(D. Colo.)
---
ORDER AND JUDGMENT
(*)
---
Before SEYMOUR, Chief Judge, BRORBY, and BRISCOE, Circuit Judges.
---
After examining the briefs and appellate record, this panel has determined unanimously that oral argument would not materially assist the determination of this appeal. See Fed. R. App. P. 34(a); 10th Cir. R. 34.1.9. Therefore, the case is ordered submitted without oral argument.

Jaime Sasa, a Mexican national who is currently incarcerated in a federal facility, appearing pro se, appeals the district court's dismissal of his 42 U.S.C. § 1983 excessive force action against prison officials. We exercise jurisdiction pursuant to 28 U.S.C. § 1291 and affirm in part, reverse in part, and remand.

Sasa alleges he was beaten without provocation by correctional officer Gregory Vendetti on September 20, 1994, while Sasa was serving a Colorado state sentence. Several other correctional officers allegedly observed the beating, but did nothing. Sasa filed this § 1983 action in April 1995, alleging excessive force. He also sued the observing officials, claiming they violated his rights by failing to take any action to stop Vendetti. In addition, he sued Aristedes Zavaras, who was allegedly responsible for training and supervising the officials.

Defendants responded by filing a motion to dismiss and/or for summary judgment. They submitted affidavits asserting at the time of the incident Sasa had just been transferred to the facility, was angry and uncooperative, and was trying to verbally provoke Vendetti. The affidavits asserted that, as Vendetti was escorting Sasa into the control center, Sasa shoved Vendetti and Vendetti grabbed Sasa. Two of the other defendants allegedly strip-searched Sasa and placed him in restraints while Vendetti prepared an incident report.

In his response, Sasa continued to assert he had been "physically assaulted" by Vendetti "while five other Correctional Officers . . . 'stood around, watched and refused to [intervene] or stop such horrendous abuse.'" Record I, Doc. 20 at 1. Sasa attached a copy of an administrative grievance form he had filed, in which he described his version of the incident:

On September 20, 1994, I was assaulted by officer Vendetti at approximately 11am to 1pm, in between those hours. This incident took place in the Captains Office. This officer did assault me in a fashion that he used his fists, choked me, beat me about the head, ran my head into a wall, and all this was done in the presence of five other staff members who stood there watching while this officer repeatedly beat me about my body. This officer said that I had pushed him into an open door which I do not have any [knowledge] about and I was beat for [something] that I did not have any involvement in.

Id., Doc. 20, Ex. 1.

The magistrate judge recommended that Sasa's claim against Zavaras be dismissed as there were no allegations and no evidence that Zavaras personally participated in the alleged incident. With regard to Sasa's claims against the remaining defendants, the magistrate concluded there remained "disputed issues of material fact as to the type of force used on [Sasa]." Id., Doc. 21 at 4. In support of this conclusion, the magistrate specifically cited the description of the beating set forth in Sasa's grievance form. Defendants objected to the magistrate's recommendation, arguing the grievance form was unsworn and was insufficient to rebut the affidavits submitted by defendants. They further argued Sasa had neither alleged nor proven any injury resulting from the alleged incident. The district court issued a one-page order, stating:

This Court having reviewed the Recommendation of the United States Magistrate Judge and the Objection filed thereto, it is hereby

ORDERED that the Objection to the Magistrate Judge's Recommendation is SUSTAINED. The Motion to dismiss is granted for the reasons stated in the motion.

Id., Doc. 24. Sasa filed a motion for relief from judgment, which was denied.

On appeal, Sasa contends the district court ignored evidence, including his sworn complaint, which was sufficient to rebut defendants' evidence and survive summary judgment. Sasa further contends the court failed to take into account his pro se status, and the court violated Rule 52(a) by failing to set forth specific reasons for granting defendants' motion.

Rule 52(a) was not violated in this case. By its express language, 52(a) applies only where an action has been "tried upon the facts without a jury or with an advisory jury." Here, 52(a) is inapplicable because there was no trial. Instead, the court ruled on defendants' dispositive motion.

Since it is unclear from the record whether the court granted defendants' motion to dismiss or their motion for summary judgment, we will review Sasa's appeal under both dismissal and summary judgment standards.

Motion to dismiss

We review the grant of a motion to dismiss for failure to state a claim de novo. See Seamons v. Snow, 84 F.3d 1226, 1231 (10th Cir. 1996). In reviewing a decision on a motion to dismiss, we accept the factual allegations in the complaint as true and we resolve all reasonable inferences in plaintiff's favor. See id. at 1231-32. Dismissal under Rule 12(b)(6) is a "harsh remedy which must be cautiously studied, not only to effectuate the spirit of the liberal rules of pleading but also to protect the interests of justice." Cayman Exploration Corp. v. United Gas Pipe Line Co., 873 F.2d 1357, 1359 (10th Cir. 1989) (internal quotation marks and citation omitted). Dismissal for failure to state a claim is inappropriate unless it appears beyond doubt that the plaintiff can prove no set of facts in support of his claim to entitle him to relief. Conley v. Gibson, 355 U.S. 41, 45-46 (1957); see Seamons, 84 F.3d at 1231.

Inmates are protected from the use of excessive force by the cruel and unusual punishment clause of the Eighth Amendment. Whitley v. Albers, 475 U.S. 312 (1986). "It is obduracy and wantonness, not inadvertence or error in good faith, that characterize the conduct prohibited by the Cruel and Unusual Punishments Clause." Id. at 319. For a beating by prison officials to rise to the level of an Eighth Amendment violation, it must be shown that the officials "acted maliciously and sadistically for the very purpose of causing harm rather than in a good-faith effort to maintain or restore discipline." Mitchell v. Maynard, 80 F.3d 1433, 1440 (10th Cir. 1996). "In making this determination, it is necessary . . . to balance the need for application of force with the amount of force used." Id. "It is not necessary for [a] plaintiff to allege a significant physical injury to state a cause of action." Id.

Considering Sasa's complaint in light of these standards, we conclude he properly stated a cause of action against all defendants except Zavaras. Sasa alleged Vendetti physically attacked and beat him for no reason. Assuming these allegations are true, Vendetti clearly would have violated Sasa's Eighth Amendment rights. Sasa alleged the remaining defendants (except Zavaras) observed the beating but failed to take any action to stop Vendetti. Again, such allegations, if true, would sufficiently demonstrate an Eighth Amendment violation. See, e.g., Burgess v. Moore, 39 F.3d 216, 218 (8th Cir. 1994) (prison official may be liable for failure to protect an inmate from use of excessive force if official is deliberately indifferent to a substantial risk of serious harm to inmate); Hovater v. Robinson, 1 F.3d 1063, 1068 (10th Cir. 1993) (same).

Sasa alleged Zavaras was responsible for training and supervising the other defendants. Such allegations are insufficient to support an Eighth Amendment violation. See, e.g., Harris v. Roderick, 126 F.3d 1189, 1204 (9th Cir. 1997) (supervisory employee liable for constitutional violations of subordinates only if he participated in or directed the violations, or knew of violations and failed to act to prevent them), cert. denied 118 S. Ct. 1051 (1998); Grimsley v. MacKay, 93 F.3d 676, 679 (10th Cir. 1996) ("Supervisor status alone is insufficient to support liability" under § 1983). Thus, Sasa's claim against Zavaras was properly dismissed.

Motion for summary judgment

We review a district court's grant of summary judgment de novo. See Wolf v. Prudential Ins. Co., 50 F.3d 793, 796 (10th Cir. 1995). Summary judgment is appropriate if the record shows there is no genuine issue as to any material fact and the moving party is entitled to judgment as a matter of law. Id., Fed. R. Civ. P. 56(c). The moving party is entitled to summary judgment when "the record taken as a whole could not lead a rational trier of fact to find for the non-moving party." Matsushita Elec. Indus. Co. v. Zenith Radio Corp., 475 U.S. 574, 587 (1986). In applying this standard, we examine the record and reasonable inferences drawn therefrom in the light most favorable to the non-moving party. See Kaul v. Stephan, 83 F.3d 1208, 1212 (10th Cir. 1996).

As stated, defendants submitted affidavits indicating Sasa provoked Vendetti, verbally and physically, and that Vendetti responded with only an amount of force sufficient to place Sasa in the control center. The affiants denied that Sasa was beaten by Vendetti. Sasa responded by continuing to allege he was beaten without provocation by Vendetti, and he attached a copy of his grievance form in which he detailed the beating and denied having provoked Vendetti. Sasa also asked the district court to "please refer to a tape that was used during the Hearing at Fremont Correctional Facility (FCC) at which time [he] Swore to the Hearing Officers about being assaulted by Officer Vendetti." Record I, Doc. 20 at 3. Although Sasa's response did not expressly refer to the statements in his verified complaint, Sasa was also entitled to have the district court consider those. See Green v. Branson, 108 F.3d 1296, 1301 n.1 (10th Cir. 1997) (if complaint has been sworn to under penalty of perjury, court treats it as an affidavit). In particular, the complaint alleged Sasa "was physically beaten by . . . Vendetti for no reason at all," and that other "officers stood around and watched the beating take place." Record I, Doc. 3 at 2.

Considering this evidence together, we conclude there were genuine issues of fact which precluded the entry of summary judgment in favor of defendants. Although it was uncontroverted that Vendetti used some amount of force against Sasa while escorting him to the control center, there was conflicting evidence concerning whether Sasa acted in any manner to prompt the physical response by Vendetti, the extent of force used by Vendetti against Sasa, and whether the other defendants should have responded to prevent Vendetti from using excessive force. In addition, there were genuine issues of fact concerning the extent of injury suffered by Sasa, if any.

With respect to the issue of damages, we acknowledge defendants' contention that Sasa failed to present sufficient evidence of injury. Although the evidence on this point is admittedly scarce (Sasa alleged only that he was injured), we believe Sasa's allegations concerning the extent of force used by Vendetti, if true, necessarily would have involved the wanton infliction of pain and would be sufficient to constitute an Eighth Amendment violation. See Hudson v. McMillian, 503 U.S. 1, 7 (1992) ("The absence of serious injury is . . . relevant to the Eighth Amendment inquiry, but does not end it."); Northington v. Jackson, 973 F.2d 1518, 1523 (10th Cir. 1992) (significant physical injury not required because constitutional inquiry focuses on whether there was infliction of pain that was unnecessary and wanton). Stated differently, Vendetti's conduct would have involved more than a "de minimis use[] of physical force," Hudson, 503 U.S. at 10, and would be actionable under the Eighth Amendment.

The judgment of the district court is AFFIRMED in part, REVERSED in part, and REMANDED for further proceedings consistent with this order.

Entered for the Court

Mary Beck Briscoe

Circuit Judge
---
FOOTNOTES
Click footnote number to return to corresponding location in the text.
*. This order and judgment is not binding precedent, except under the doctrines of law of the case, res judicata, and collateral estoppel. The court generally disfavors the citation of orders and judgments; nevertheless, an order and judgment may be cited under the terms and conditions of 10th Cir. R. 36.3.
---

| Keyword | Case | Docket | Date: Filed / Added |

(23236 bytes)

(19107 bytes)
---
Comments to: WebMaster, ca10 [at] washburnlaw.edu.
Updated: December 10, 1998.
HTML markup © 1998, Washburn University School of Law.
URL: http://ca10.washburnlaw.edu/cases/1998/12/98-1210.htm.