| Keyword | Case | Docket | Date: Filed / Added |

(25595 bytes)

(22534 bytes)
---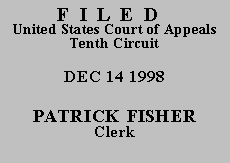 UNITED STATES COURT OF APPEALS
TENTH CIRCUIT
---
---
ORDER AND JUDGMENT
(*)
---
Before ANDERSON, KELLY, and BRISCOE, Circuit Judges.
---
After examining the briefs and appellate record, this panel has determined unanimously that oral argument would not materially assist the determination of this appeal. See Fed. R. App. P. 34(a)(2); 10th Cir. R. 34.1.9. The case is therefore ordered submitted without oral argument.

Eric U. Holman appeals from the district court's dismissal, without prejudice, of his petition for a writ of habeas corpus, filed pursuant to 28 U.S.C. § 2241. The district court granted Holman's petition to proceed in forma pauperis, but dismissed Holman's petition for failure to exhaust administrative remedies. We affirm.

BACKGROUND

Holman has had extensive experience with the federal court system. In 1990, he was arrested in Michigan and was charged with various drug- and weapons-related crimes. In 1991, a jury in the Eastern District of Michigan convicted Holman of distribution of cocaine, in violation of 21 U.S.C. § 841; use of a firearm in a drug offense, in violation of 18 U.S.C. § 924(c); and of being a felon in possession of a firearm, in violation of 18 U.S.C. §§ 922(g)(1) and 924(a)(2). Holman was sentenced to a term of 101 months imprisonment, and his sentence was summarily affirmed on direct appeal. United States v. Holman, 963 F.2d 374, 1992 WL 107019 (6th Cir. May 19, 1992). Holman applied for, and was denied, certiorari before the Supreme Court. Holman v. United States, 506 U.S. 1035 (1992). In 1995, Holman filed a post-conviction motion to vacate, set aside, or correct his sentence, pursuant to 28 U.S.C. § 2255, in the Eastern District of Michigan. The district court denied the motion, and the Sixth Circuit affirmed. Holman v. United States, 113 F.3d 1234, 1997 WL 215514 (6th Cir. Apr. 29, 1997).

During the course of serving his sentence, Holman has been incarcerated at several different correctional facilities. Apparently, he was a prisoner of the State of Michigan at some point, and, although the record is unclear as to dates and times of transfer, he has apparently been imprisoned at federal facilities in Pennsylvania, Georgia, Kansas, and Colorado. At every step along his path through the prison system, Holman has filed some sort of litigation against prison officials. While a prisoner of the State of Michigan, Holman filed a lawsuit in federal court in Michigan, pursuant to 42 U.S.C. § 1983, alleging that his civil rights had been violated by prison officials. This suit was dismissed by the district court; Holman then moved for relief from the judgment under Fed. R. Civ. P. 60. The Sixth Circuit finally disposed of this litigation in 1993, affirming the dismissal and the denial of Rule 60 relief. Holman v. Haskell, 9 F.3d 107, 1993 WL 424848 (6th Cir. Oct. 19, 1993). While a prisoner in Pennsylvania, Holman filed another lawsuit, the nature of which is unclear from the record, and which was dismissed by the federal district court. The Third Circuit affirmed this dismissal in 1996. Holman v. Holland, 106 F.3d 385 (3d Cir. 1996). After his transfer to Leavenworth, Kansas, Holman filed two separate Bivens actions in federal court in Kansas, alleging constitutional violations by various prison officials. Holman v. Gorski, No. 97-3231-GTV (D. Kan. filed 1997); Holman v. U.S. Dept. of Justice, Nos. 97-3226-GTV and 97-3230-GTV (D. Kan. filed 1997) (two consolidated cases). These Kansas cases have been dismissed for failure to exhaust administrative remedies. See R. Doc. 15, at 2 n.1. In his habeas petition filed in the district court below, Holman also stated that he was maintaining at least two other federal lawsuits, which apparently were filed in district courts within the Eleventh and Third Circuits. R. Doc. 1, at 8. The district court, in the case before us, stated that "Petitioner has generated a confusing maelstrom of litigation that benefits neither him nor the interests of justice." R. Doc. 5, at 2.

On top of all of these cases, Holman has brought the instant action, a suit for habeas corpus relief pursuant to 28 U.S.C. § 2241.(1) To make matters even more confusing, Holman's § 2241 petition did not even set forth his grounds for relief or the alleged factual bases underlying those grounds; he merely incorporated by reference the pleadings in the Kansas Bivens actions, which at that time had not yet been dismissed. As a result, the appellate record in this case contains only oblique references to Holman's allegations, and does not contain any direct statement of his allegations or the accompanying factual bases. The only clues contained in the record which point to the substance of Holman's allegations are a document from the Leavenworth warden denying various claims Holman had made, and a statement by the district court characterizing Holman's claims. Holman's complaints to the warden included a request for kosher meals, a complaint that he had been denied access to legal materials, and a complaint regarding the computation of his sentence. In other documents filed with the district court, Holman again mentions the complaint regarding the computation of his sentence. In the words of the district court, Holman's claims "generally distill to three components: he reiterates most or all of the claims asserted in all of his cases; he cites his on-going but unsuccessful attempts to follow the procedures for exhausting administrative remedies; and he argues exhaustion should not be required under the circumstances where most or all of his legal materials have been taken." R. Doc. 15, at 2. Construing Holman's pleadings liberally, as we must, see Haines v. Kerner, 404 U.S. 519, 520-21 (1972), it appears to us that the gravamen of Holman's complaints in his § 2241 petition is that his sentence was incorrectly calculated.(2)

The district court, as stated, dismissed Holman's petition for failure to exhaust administrative remedies. Holman filed a motion for reconsideration, arguing that the administrative procedures are frustrating and futile. The district court denied Holman's motion.

On appeal, Holman again raises a futility-related argument, and in addition asserts that because the district court dismissed his petition on exhaustion grounds sua sponte, without any exhaustion-based argument from the government, that the dismissal on exhaustion grounds was improper.

DISCUSSION

Holman wisely does not contest the district court's conclusion that he must first exhaust administrative remedies. Even though § 2241 does not contain an explicit exhaustion requirement, as § 2254 does, we have nonetheless stated that

responsibility for the computation of the service of a sentence is an administrative responsibility conferred upon the attorney general acting through the Bureau of Prisons. 18 U.S.C. § 3568. For this reason, and because the agency is in a superior position to investigate the facts, judicial intervention is usually deferred until administrative remedies have been exhausted.

Williams v. O'Brien, 792 F.2d 986, 987 (10th Cir. 1986); see also Clemente v. Allen, 120 F.3d 703, 705 (7th Cir. 1997) (stating that "we review a claim concerning the computation of a sentence only after administrative remedies have been exhausted"); cf. Kendrick v. Carlson, 995 F.2d 1440, 1447 (8th Cir. 1993) (making a similar holding). "The Bureau of Prisons has established an administrative procedure through which an inmate may seek review of complaints relating to any aspect of his imprisonment," including sentence computations. Williams, 792 F.2d at 987. These procedures are set forth in 28 C.F.R. §§ 542.10-.19 (1998). There is no evidence in the record that Holman pursued these administrative remedies, and Holman does not seem to argue that he took any administrative action.

Rather, Holman appears to argue that he should be exempted from the exhaustion requirement because it would be futile to pursue such remedies, and because the government never argued exhaustion to the district court. We address each of these arguments in turn.

Holman is correct that a futility exception to the exhaustion requirement exists. We have applied the futility exception in habeas cases brought under § 2254, see Wallace v. Cody, 951 F.2d 1170, 1172 (10th Cir. 1991); Goodwin v. Oklahoma, 923 F.2d 156, 157-58 (10th Cir. 1991), and other circuits have applied the doctrine in habeas cases brought under § 2241, see Fraley v. United States Bureau of Prisons, 1 F.3d 924, 925 (9th Cir. 1993). However, the futility exception is quite narrow. We have applied it only where there is a recent, adverse determination disposing of the precise point raised by the petitioner seeking to apply the exhaustion requirement. See Wallace, 951 F.2d at 1172; Goodwin, 923 F.2d at 158. In Fraley, the Ninth Circuit case cited by Holman which applies the futility exception in a § 2241 case, the petitioner had already made one administrative appeal from the decision computing her sentence, and that appeal was denied based on a published Bureau of Prisons policy. Petitioner argued that it would be futile to mount further administrative appeals, because they would almost certainly be denied based on the same published policy. Therefore, the court held that petitioner was excused, due to futility, from pursuing further administrative remedies, and proceeded to hear her case on the merits. Fraley, 1 F.3d at 925.

Alternatively, the Supreme Court has approved of the futility exception to the exhaustion requirement where further administrative appeals would be procedurally barred. Harris v. Reed, 489 U.S. 255, 263 n.9 (1989).

Holman alleges neither that his administrative remedies would be substantively precluded because of some binding administrative precedent, nor that his administrative remedies would be procedurally barred. Frankly, Holman's futility arguments are not well-focused, and it is difficult to determine the exact factual grounds on which he is basing his arguments. As far as we can tell, Holman appears to allege that he is unable to exhaust his administrative remedies because prison officials, in alleged retaliation against him for filing lawsuits against them, took his legal materials and roughed him up. Holman provides no factual support for these claims. Even if we assumed that these allegations were true, which we do not, see Ruark v. Gunter, 958 F.2d 318, 319 (10th Cir. 1992) (stating that "naked allegations" devoid of factual support are not cognizable on federal habeas), that would still not be sufficient to establish that Holman's administrative appeals would be futile. Holman must be able to demonstrate that his administrative appeals would founder because of a procedural bar, or because of some binding adverse administrative precedent. This he cannot do, and therefore he cannot bring his claims within the futility exception.

Holman next claims that his "failure to exhaust administrative remedies does not preclude judicial review where the government fails to raise an objection." United States v. Woods, 888 F.2d 653, 654 (10th Cir. 1989). This is because, in cases where the government fails to raise the exhaustion issue, the requirement may be considered waived. See Granberry v. Greer, 481 U.S. 129, 132-34 (1987). Here, however, the government did not fail to raise the exhaustion issue; rather, before the government had even answered Holman's petition in this case, the district court, sua sponte, raised the exhaustion issue and dismissed Holman's petition, without prejudice, because of failure to exhaust. We have stated, in a habeas case, that "a court may raise the defense of nonexhaustion sua sponte." Odum v. Boone, 62 F.3d 327, 332 n.2 (10th Cir. 1995); see also Magouirk v. Phillips, 144 F.3d 348, 357 (5th Cir. 1998) (stating that "there is no doubt that a federal court may raise sua sponte a petitioner's failure to exhaust state law remedies"); Brown v. Toombs, 139 F.3d 1102, 1104 (6th Cir.) (stating that "[d]istrict courts should enforce the exhaustion requirement sua sponte if not raised by the defendant"), cert. denied, 119 S. Ct. 88 (1998).

In sum, Holman failed to pursue administrative remedies that were open to him. Under the facts of this case, he cannot avail himself of the futility exception to the exhaustion requirement, and it is entirely proper for a district court to raise exhaustion issue sua sponte.

The district court's dismissal of Holman's petition without prejudice is AFFIRMED, and Holman is advised that by continuing his course of baseless litigation, he risks the imposition of sanctions either in the district court, the court of appeals, or both.

ENTERED FOR THE COURT

Stephen H. Anderson

Circuit Judge
---
FOOTNOTES
Click footnote number to return to corresponding location in the text.
*.This order and judgment is not binding precedent, except under the doctrines of law of the case, res judicata, and collateral estoppel. The court generally disfavors the citation of orders and judgments; nevertheless, an order and judgment may be cited under the terms and conditions of 10th Cir. R. 36.3
---
1.We note that Holman was correct to file the instant § 2241 petition in the District of Kansas. This is because "[a] petition under 28 U.S.C. § 2241 attacks the execution of a sentence rather than its validity and must be filed in the district where the prisoner is confined." Bradshaw v. Story, 86 F.3d 164, 166 (10th Cir. 1996). A § 2255 petition, on the other hand, which attacks the legality or validity of the petitioner's detention, "must be filed in the district that imposed the sentence." Id.
2.The district court also noted that Holman's practice of "submit[ting] pleadings captioned for filing in all of petitioner's actions before this court and another judge in this district" was an unhelpful practice which "makes each of petitioner's cases more difficult to handle and decide." R. Doc. 15, at 1-2. The district court "strongly discourage[d] this practice." Id. at 2. We agree with these sentiments of the district court, and further advise future litigants (a category of persons which undoubtedly will include Holman) that such a practice is, in the end, not helpful to their causes.
---

| Keyword | Case | Docket | Date: Filed / Added |

(25595 bytes)

(22534 bytes)
---
Comments to: WebMaster, ca10 [at] washburnlaw.edu.
Updated: December 15, 1998.
HTML markup © 1998, Washburn University School of Law.
URL: http://ca10.washburnlaw.edu/cases/1998/12/98-3124.htm.