| Keyword | Case | Docket | Date: Filed / Added |

(29294 bytes)

(24612 bytes)
---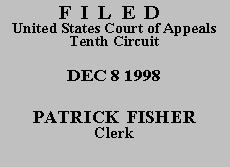 UNITED STATES COURT OF APPEALS
FOR THE TENTH CIRCUIT
---
ROGER BASHAM,

Plaintiff-Appellant,

v.

JUDY UPHOFF, Director of the Wyoming Department of Corrections; DAWNA ERICKSON, Director of Education/Law Librarian for the Wyoming State Penitentiary, individually and under color of law,

Defendants-Appellees.





No. 98-8013

(D.C. No. 97-CV-134)

(D. Wyo.)
---
ORDER AND JUDGMENT
(*)
---
Before BALDOCK, EBEL, and MURPHY, Circuit Judges.
---
After examining the briefs and appellate record, this panel has determined unanimously that oral argument would not materially assist the determination of this appeal. See Fed. R. App. P. 34(a)(2)(C); 10th Cir. R. 34.1.9. The case is therefore ordered submitted without oral argument.

Plaintiff-Appellant Roger Basham, appearing pro se and in forma pauperis, appeals from the district court's dismissal of his civil rights complaint brought under 42 U.S.C. § 1983. The district court dismissed plaintiff's complaint sua sponte pursuant to 28 U.S.C. § 1915(e)(2)(B), holding that the complaint was legally frivolous, that it failed to state a claim upon which relief may be granted, and that plaintiff had failed to exhaust his administrative remedies as required by 42 U.S.C. § 1997e(a). R., Doc. 26 at 2. Our jurisdiction arises under 28 U.S.C. § 1291, and we reverse and remand for further proceedings.

Plaintiff is a Wyoming state inmate confined in the Arizona State Prison pursuant to an interstate compact. His federal complaint alleges that the Wyoming defendants, who maintain responsibility for providing inmates with legal assistance and materials, violated his constitutional right to access to the courts by failing to provide him with adequate Wyoming legal materials or assistance to pursue an attack upon his sentence in state court. Although the case was filed in federal district court in May 1997, plaintiff never successfully effected service upon the State. The district court granted IFP status in January 1998 and then dismissed the case two weeks later before serving the State. See 28 U.S.C. § 1915(d) (requiring district court to serve process); McGore v. Wrigglesworth, 114 F.3d 601, 604-05, 608, 612 (6th Cir. 1997) (stating that sua sponte screening pursuant to § 1915(e)(2) or § 1915A must occur "before service of process is made on the opposing parties"). We do not have the benefit, therefore, of the State's response to this appeal.

I.

A dismissal for failure to state a claim is subject to de novo review. See Kidd v. Taos Ski Valley, Inc., 88 F.3d 848, 854 (10th Cir. 1996) (standard under Fed. R. Civ. P. 12(b)(6)); McGore, 114 F.3d at 604 (referring to § 1915(e)(2)); see also Dahler v. Goodman, No. 97-3177, 139 F.3d 911, 1998 WL 67359, **2 (10th Cir., Feb. 19, 1998) (discussing standards). Citing Smith v. Romer, No. 96-1211, 107 F.3d 21, 1997 WL 57093 (10th Cir., Feb. 11, 1997), the district court found that because plaintiff "failed to allege or establish that the appeal which was dismissed involved a nonfrivolous attack on his sentence or confinement [and] . . . provided no information concerning the merits of the appeal," R., Doc. 26 at 3, he had failed to state a claim for denial of access to the courts. The record reflects that plaintiff indeed failed to attach a copy of his state complaint to his federal suit. A review of his amended federal complaint reveals, however, that he alleged that he filed a state suit against the Warden of the Wyoming State Penitentiary and the Wyoming Attorney General, see id., Doc. 6 at 8; that it raised issues of "illegal confinement and due process", id.; and that his appeal in state court was dismissed because he could not provide the Wyoming state court legal authority for granting his application to waive or defer payment of filing fees so that he could continue his appeal, see id., Doc. 6 at 4, Doc. 7 at 3-4.

Dismissal for failure to state a claim is proper only when it is clear beyond doubt that the complaint, viewed most favorably to the plaintiff, cannot be read to state a valid claim. See Hall v. Bellmon, 935 F.2d 1106, 1109 (10th Cir. 1991).

A pro se litigant's pleadings are to be construed liberally and held to a less stringent standard than formal pleadings drafted by lawyers. We believe that this rule means that if the court can reasonably read the pleadings to state a valid claim on which the plaintiff could prevail, it should do so despite the plaintiff's failure to cite proper legal authority . . . or his unfamiliarity with pleading requirements.

Id. at 1110 (citations omitted). This rule applies to §1915(e) proceedings involving a pro se litigant. See id. at 1110 n.3 (discussing § 1915(d), which is now § 1915(e)). Plaintiff was not required to "establish" his claim(1); he was only required to allege enough facts to support it. Taking plaintiff's well-pleaded allegations as true and construing them in the light most favorable to plaintiff, see Yoder v. Honeywell Inc., 104 F.3d 1215, 1224 (10th Cir.), cert. denied, 118 S. Ct. 55 (1997), we conclude that plaintiff's complaint stated a valid claim. Instead of dismissing plaintiff's suit because he failed to prove that the state complaint involved a nonfrivolous attack on his sentence, the district court should have afforded plaintiff an opportunity to support his claims. We hold that the district court improperly dismissed plaintiff's action on the basis of failure to state a claim.

II.

We also review the district court's dismissal for failure to exhaust administrative remedies de novo. See White v. McGinnis, 131 F.3d 593, 595 (6th Cir. 1997) (dismissal under § 1915A). Plaintiff's complaint was filed after April 26, 1996, and is accordingly governed by the requirements of the Prison Litigation Reform Act of 1995. See Green v. Nottingham, 90 F.3d 415 (10th Cir. 1996). By this Act, Congress amended 42 U.S.C. § 1997e to provide that "[n]o action shall be brought with respect to prison conditions under section 1983 of this title, or any other Federal law, by a prisoner confined in any jail, prison, or other correctional facility until such administrative remedies as are available are exhausted." 42 U.S.C. § 1997e(a) (West Supp. 1997). We have held that exhaustion of remedies is now a mandatory requirement under the amended statutes, see Garrett v. Hawk, 127 F.3d 1263, 1265 (10th Cir. 1997), but we emphasized in that case that the prisoner is required to exhaust only those administrative remedies that are "actually available." Id. at 1267.

Although we have not specifically ruled on this question, several courts have held that this section "does not impose exhaustion of administrative remedies as a prerequisite to jurisdiction." Underwood v. Wilson, 151 F.3d 292, 294 (5th Cir. 1998); see Wright v. Morris, 111 F.3d 414, 421 (6th Cir.), cert. denied, 118 S. Ct. 263 (1997); Lacey v. C.S.P. Solano Med. Staff, 990 F. Supp. 1199, 1202-03 (E.D. Cal. 1997); cf. Castille v. Peoples, 489 U.S. 346, 349 (1989) (stating that the habeas corpus exhaustion rule is not a jurisdictional requirement). This conclusion is supported by other provisions in § 1997e that provide that a district court must screen prisoner complaints and dismiss those that are frivolous or that fail to state a claim without requiring the exhaustion of administrative remedies. See 42 U.S.C. §§ 1997e(c)(1) & (2). As the court in Underwood noted, a "court would not be empowered to do so if the exhaustion provision deprived the court of jurisdiction over the action." 151 F.3d at 295. An exhaustion requirement that is not a jurisdictional prerequisite "is a condition precedent to suit that functions like a statute of limitations and is subject to waiver, estoppel, and equitable tolling." Million v. Frank, 47 F.3d 385, 389 (10th Cir. 1995) (discussing Title VII filing requirements). Equitable tolling may be appropriate where "the plaintiff has in some extraordinary way been prevented from asserting his rights." Carlile v. South Routt Sch. Dist. RE 3-J, 652 F.2d 981, 985 (10th Cir. 1981) (further quotation omitted).

The district court stated that because plaintiff admitted he had not filed a grievance and failed to show that he "even attempted to file a grievance with defendants," plaintiff's "conclusory allegation that he has no way to file a grievance is insufficient to establish that no administrative remedies were available." R., Doc. 26 at 3. Plaintiff maintains that he was denied a copy of the Wyoming prison policies, and that he did attempt to resolve the problem administratively by writing letters to the defendants regarding his complaints. He attached to his federal complaint copies of correspondence between himself and the prison officials, including a letter and a "notice and demand" warning that he would sue them if they continued to refuse to send him the materials he requested, a letter requesting a copy of the Wyoming prison policies, and a letter denying his request for a copy of the prison policies. See id., Doc. 7 Ex. B. The Wyoming correctional facility had a responsibility to inform plaintiff of the proper way to file and appeal a Wyoming grievance. See 28 C.F.R. § 40.3 ("The written grievance procedure shall be readily available to all . . . inmates of the institution. Additionally, each inmate . . . shall, upon arrival at the institution, receive written notification and an oral explanation of the procedure, including the opportunity to have questions regarding the procedure answered orally.").

Under these circumstances, we hold that the district court erred by dismissing the complaint without determining whether, under the circumstances of being incarcerated in an out-of-state facility with no access to prison policies, plaintiff had any "actually available" administrative remedies to exhaust. Cf. Harris v. Champion, 15 F.3d 1538, 1555 (10th Cir. 1994) (finding that, in habeas context, exhaustion may be excused where there is unjustified delay by state). Further, we agree with the Underwood court that, because "[d]ismissal under § 1997e is made on pleadings without proof[, a]s long as the plaintiff has alleged exhaustion with sufficient specificity, lack of admissible evidence in the record does not form the basis for dismissal." 151 F.3d at 296.

III.

We review the trial court's determination that plaintiff's denial of access claim is frivolous for abuse of discretion. See Schlicher v. Thomas, 111 F.3d 777, 779 (10th Cir. 1997).(2) A complaint is "frivolous or without merit if the plaintiff cannot make a rational argument on the law or facts to support his claim." Phillips, 638 F.2d at 208. As discussed above, plaintiff has made a rational argument on the law and the facts to support his claim of denial of access to the courts. Therefore, we hold that the district court abused its discretion in finding his complaint to be frivolous.

IV.

Finally, the district court opined that even if plaintiff "had shown that the appeal involved a nonfrivolous claim attacking his sentence, . . . his claim should be dismissed because the exhibits filed by plaintiff show that he was offered reasonable alternatives to obtaining Wyoming legal resource material." R., Doc. 26 at 4. The court stated that the director of education at the Wyoming State Penitentiary had sent plaintiff "legal material which he had requested. She did require that he be specific in his requests, but also informed him that if he could not be specific, the inmate law librarian at the Wyoming State Penitentiary could do research for him pertaining to his case." Id. Thus, because in the court's view, plaintiff was "clearly afforded a reasonable alternative to obtaining legal materials," id. at 5, the court found that his claims were frivolous. We review the court's legal conclusion de novo.

A review of the correspondence attached to plaintiff's complaint shows that, contrary to the court's assertion, the director of education did not send plaintiff the index for the Wyoming Statutes nor any of the substantive law reporters or statutes he requested, except for copies of some specific cases. See id., Doc. 7 Ex. B. As the Supreme Court has stated, "[t]he tools . . . require[d] to be provided are those that the inmates need in order to attack their sentences, directly or collaterally, and in order to challenge the conditions of their confinement." Lewis v. Casey, 518 U.S. 343, 354 (1996). While it is true that a prison may validly require a prisoner to more narrowly limit legal requests, see Petrick v. Maynard, 11 F.3d 991, 995-96 (10th Cir. 1993), we are hard-pressed to understand how a prisoner would be able to narrow the scope of requests without having access to indices or annotations so that the prisoner knows what to request. When a prison limits access to the courts by restricting an inmate's access to legal resources, the court "must determine whether the prison's policy is reasonably related to legitimate penological interests." Id. at 994-95. In the past we have considered economic factors, the reasonable alternatives to accommodating inmate requests, and "whether there is a 'valid' connection between the prison policy and putative government interest." Id. at 995. Of course, without the benefit of the prison's input into this equation, a court cannot draw this balance; thus the district court's conclusion was premature. We also have some reservation whether providing an inmate law librarian to do legal research may qualify as providing adequate legal assistance if that is the only access a prisoner is given. Because the district court relied on the erroneous finding that the prison had sent plaintiff everything he had requested, and to the extent that the district court's ruling reflected its view that plaintiff's access was reasonable as a matter of law, the court erred by vaulting over the careful balancing required under Petrick. See id. at 996.

The judgment of the United States District Court for the District of Wyoming is REVERSED and REMANDED for proper service on defendants by the district court. The mandate shall issue forthwith.

Entered for the Court

Circuit Judge
---
FOOTNOTES
Click footnote number to return to corresponding location in the text.
*. This order and judgment is not binding precedent, except under the doctrines of law of the case, res judicata, and collateral estoppel. The court generally disfavors the citation of orders and judgments; nevertheless, an order and judgment may be cited under the terms and conditions of 10th Cir. R. 36.3.
---
1. The district court apparently garnered its language from the Smith opinion; however, in that case, the court dismissed the plaintiff's denial of access to the court's claim on summary judgment, after plaintiff had been given an opportunity to come forward to support that claim. See 1997 WL 57093 at **3.
2. Because § 1915(e)(2) and § 1915A(b) after the 1996 amendments no longer contain discretionary language, we question whether abuse of discretion is now the correct standard to apply. See McGore v. Wrigglesworth, 114 F.3d 601, 604 (6th Cir. 1997) (analyzing the changes and adopting de novo review standard). Further, "[e]n route to determining that a claim is frivolous, the district court must determine whether it is legally insufficient, an issue purely of law on which appellate review is plenary." Billman v. Indiana Dep't of Corrections, 56 F.3d 785, 787 (7th Cir. 1995). Thus, a determination of frivolousness may now be subject to de novo review, with the district court given discretion to refuse to accept without question the truth of plaintiff's allegations that are "clearly baseless," which encompass "fanciful," "fantastic," "delusional," "wholly incredible," or "irrational" claims. Denton v. Hernandez, 504 U.S. 25, 32-33 (1992) (further quotation omitted). We reach the same result even if we were to apply a de novo standard.
---

| Keyword | Case | Docket | Date: Filed / Added |

(29294 bytes)

(24612 bytes)
---
Comments to: WebMaster, ca10 [at] washburnlaw.edu.
Updated: December 9, 1998.
HTML markup © 1998, Washburn University School of Law.
URL: http://ca10.washburnlaw.edu/cases/1998/12/98-8013.htm.