| Keyword | Case | Docket | Date: Filed / Added |

(21165 bytes)

(17610 bytes)
---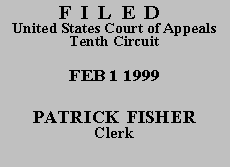 UNITED STATES COURT OF APPEALS
TENTH CIRCUIT
---
R. GARY BURKE,

Plaintiff-Counter-Defendant-Appellant,

v.

BDM TECHNOLOGIES, INC., wholly and as a subsidiary of BDM International, Inc.,

Defendant-Counter-Claimant-Appellee.

and

R. GARY BURKE,

Plaintiff-Counter-Defendant-Appellee,

v.

BDM TECHNOLOGIES, INC., wholly and as a subsidiary of BDM International, Inc.,

Defendant-Counter-Claimant-Appellant.





No. 97-2266

(D.C. No. CIV-96-784-BB)

(D. N.M.)

No. 97-2275

(D.C. No. CIV-96-784-BB)

(D. N.M.)
---
ORDER AND JUDGMENT
(*)
---
Before SEYMOUR, Chief Judge, ANDERSON, and BRISCOE, Circuit Judges.
---
Plaintiff Gary Burke brought this action for wrongful termination and breach of contract, and sought punitive damages in state court. The case was removed to United States District Court on the basis of diversity jurisdiction, 28 U.S.C. § 1332. Defendant BDM Technologies, Inc., counterclaimed for breach of fiduciary duty, breach of duty of loyalty, violation of trade secrets, breach of contract, injunctive relief, and copyright infringement. BDM Technologies dismissed its counterclaim for copyright infringement with prejudice prior to trial. Following a trial to the court, the district court ordered that Burke take nothing on his claims and that BDM Technologies take nothing on its counterclaims. Burke appeals the district court's ruling and BDM Technologies cross-appeals. We affirm.

I.

Burke began his employment at BDM International, Inc., an information technology corporation, in 1984. In September 1992, he took a medical leave of absence. During his absence, BDM Technologies was created, which is a wholly-owned subsidiary of BDM International.

Burke returned to work in June 1993 as vice president of Promotions Technology International, a unit of BDM Technologies. Burke signed an agreement which contained an at-will employment provision stating his "employment may be terminated by either party, at any time, upon such [reasonable] notice being given." App. at 155.

As a part of its business objectives, Promotions Technology dealt with developing "frequency loyalty and database marketing initiative supported by a software program that [BDM Technologies] marketed and offered to commercial clients." Br. of Appellee at 4. In May 1994, Burke began reporting directly to John Corsiglia, who was then the president of BDM Technologies. In 1993, 1994, and 1995, Promotions Technology lost approximately $300,000, $900,000, and $250,000, respectively. To prevent further losses, Corsiglia decided to shut down the Promotions Technology unit. Corsiglia informed Burke in early July 1995 that he would be subject to a reduction-in-force at the end of the month, and Burke was discharged at the end of July.

II.

Our review of the district court's findings of fact is governed by Fed. R. Civ. P. 52(a). Salve Regina College v. Russell, 499 U.S. 225, 233 (1991). The rule provides: "Findings of fact, whether based on oral or documentary evidence, shall not be set aside unless clearly erroneous, and due regard shall be given to the opportunity of the trial court to judge of the credibility of the witnesses." A finding of fact will not be adjudged clearly erroneous "unless it is without factual support in the record, or if the appellate court, after reviewing all the evidence, is left with the definite and firm conviction that a mistake has been made." Las Vegas Ice & Cold Storage Co. v. Far West Bank, 893 F.2d 1182, 1185 (10th Cir. 1990) (citation omitted).

III.

The general rule in New Mexico is that employment is terminable at will by either party unless there is a contract stating otherwise. Hartbarger v. Frank Paxton Co., 857 P.2d 776, 779 (N.M. 1993). An exception to this rule has been recognized for implied contracts in which an employer has voluntarily restricted its power to discharge. Id.

It is undisputed that BDM Technologies has no personnel manual. However, BDM International, its parent company, does have a personnel manual which contains progressive discipline procedures. Whether BDM International's manual governs the employment policies of BDM Technologies is irrelevant. Even assuming the manual controls the discharge policies of BDM Technologies, it is undisputed that the manual provides that reduction-in-force discharges do not trigger progressive discipline requirements. The record amply supports the district court's finding that Burke was discharged due to a reduction-in-force. Corsiglia testified that he discharged Burke as part of a reduction-in-force after he determined the poor financial performance of Promotions Technology necessitated elimination of the entire unit. Burke acknowledged that reduction-in-force was always a possibility at BDM Technologies. A reasonable trier of fact could determine Burke was discharged as part of a reduction-in-force. Even if Burke's performance was unsatisfactory, the reduction-in-force defense is not necessarily undermined. The two concepts are not mutually exclusive.

Burke also contends the district court erred in rejecting his claim of breach of implied covenant of good faith and fair dealing. Generally, every contract, whether express or implied, imposes upon the parties a duty of good faith and fair dealing in its performance and enforcement. Watson Truck & Supply Co. v. Males, 801 P.2d 639, 642 (N.M. 1990); Restatement (Second) of Contracts § 205 (1981). However, New Mexico does not recognize such a cause of action in an at-will employment contract. See Bourgeous v. Horizon Healthcare Corp., 872 P.2d 852, 856 (N.M. 1994). Nor will the state embrace such an implied covenant "to override express provisions addressed by the terms of an integrated written contract." Id. The only employment context in which New Mexico has applied the implied covenant of good faith and fair dealing is non-at-will employment relationships where the express terms of the employment contract do not foreclose the doctrine. Id. at 856-57. In articulating its theory, the New Mexico Supreme Court has stated:

Although an employer may agree to restrict or limit his right to discharge an employee, to imply such a restriction in an employment-at-will relationship, which by its very nature has no restrictions, is inherently unsound.

. . . [T]o imply in every employment situation a covenant of good faith prohibiting dismissal except for good cause could be likened to a judicial call for collective bargaining.

Melnick v. State Farm Mut. Auto. Ins. Co., 749 P.2d 1105, 1111 (N.M. 1988) (internal citation omitted).

Burke apparently suggests the "corporate culture and long-standing custom" of BDM Technologies of attempting to relocate employees whose jobs are eliminated for economic reasons created an implied contract preventing the company from discharging an employee without first attempting to relocate that employee. Because the implied covenant of good faith and fair dealing "requires that neither party do anything which will deprive the other of the benefits of the agreement," Watson, 801 P.2d at 642, Burke reasons the company's refusal to transfer him to a vacant position constituted a breach of that implied covenant. We disagree.

An implied contract cannot be properly fashioned from the company's corporate culture/custom for relocating employees subject to a reduction-in-force. A similar situation was confronted in Hartbarger, where the employer had a tradition of maintaining long-term employment relationships. After plaintiff was terminated, he pointed to the history of long-term employment to support his theory that the employer did not maintain an at-will employment policy. The New Mexico Supreme Court rejected the argument, noting:

[Defendant's] retention of other employees for a long time is in itself no indication that [plaintiff] had an implied contract requiring that termination be only for just cause. As a matter of policy, this Court will not consider evidence that a company does not usually fire employees without a good reason as by itself establishing that the company does not maintain an at-will employment policy. To do otherwise would encourage employers to occasionally fire employees for no other reason than to show that they maintain the freedom to do so.

857 P.2d at 785. Here, there is no contention (or evidence) that BDM Technologies had any policy requiring its officials to attempt to transfer employees to vacant positions if their jobs were eliminated for economic reasons. To the contrary, all evidence suggests this practice reflected nothing more than a benevolent gesture on the part of the company.

Even if an implied covenant of good faith and fair dealing existed, there is nothing in the record to indicate a breach of such a covenant. Both Corsiglia and the vice president of human resources undertook good faith efforts to find Burke alternative employment in the company. Burke, despite his acknowledged responsibility, made virtually no effort on his own to look for other positions in the BDM family of companies. The corporate culture at BDM Technologies did not encompass a guarantee of permanent employment. The company's practice was simply to attempt to find vacant positions for individuals in Burke's position.

IV.

We need not decide whether the district court erred in concluding the counterclaims had no merit. Even assuming Burke committed the offenses alleged in the counterclaims, the record contains no evidence that BDM Technologies suffered damages or has been irreparably harmed in any way that might justify equitable relief. The district court excluded all evidence regarding damages to BDM Technologies and Promotions Technology flowing from Burke's activities, and BDM Technologies does not appeal that ruling.

As far as BDM Technologies' requested injunctive relief, the company alleged Burke's continued use of proprietary and confidential information in his business "constitutes an ongoing and continuing harm" for which BDM Technologies has no adequate remedy at law. App. at 12. See Hines Corp. v. City of Albuquerque, 621 P.2d 1116, 1118 (N.M. 1980) (injunctions are granted in New Mexico to prevent irreparable injuries for which there is no adequate remedy at law). There is no evidence in the record to support this allegation. BDM Technologies' only allegation of irreparable harm is that, because of Burke's continued misappropriation of proprietary information, the company "has been unable to sell the TMC software" formerly utilized by Promotions Technology. Br. of Appellee at 26. The page in the transcript cited in support of this proposition does not reflect this statement. The transcript page cited is part of the testimony of Tom Faulders, chief financial officer of BDM International, and it states the former assets of Promotions Technology are now being held in BDM International's strategic operations unit. See Suppl. App. at 87. The record does not suggest that any BDM entity has attempted to sell the software or expressed a desire to resume operations in the "frequency loyalty" marketing/software development industry. The district court's denial of injunctive relief is not clearly erroneous.

AFFIRMED.

Entered for the Court

Mary Beck Briscoe

Circuit Judge
---
FOOTNOTES
Click footnote number to return to corresponding location in the text.
*. This order and judgment is not binding precedent, except under the doctrines of law of the case, res judicata, and collateral estoppel. The court generally disfavors the citation of orders and judgments; nevertheless, an order and judgment may be cited under the terms and conditions of 10th Cir. R. 36.3.
---

| Keyword | Case | Docket | Date: Filed / Added |

(21165 bytes)

(17610 bytes)
---
Comments to: WebMaster, ca10 [at] washburnlaw.edu.
Updated: February 2, 1999.
HTML markup © 1999, Washburn University School of Law.
URL: http://ca10.washburnlaw.edu/cases/1999/02/97-2266.htm.