| Keyword | Case | Docket | Date: Filed / Added |

(27431 bytes)

(25115 bytes)
---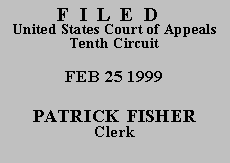 UNITED STATES COURT OF APPEALS
TENTH CIRCUIT
---
PATRICIA JOHNSON, MOSESE FIEFIA, OFA FIEFIA, JAIME GOROSTIETA, ESTEBAN RIVERA, LORENZO RODRIGUEZ, ANTONIO RUEDA, VICTOR JAMES SHEPARD, as the heir and personal representative of Ruby Shepard, LOLOHEA TUPOU, TAUFA TUPOU,

Plaintiffs - Appellants,

vs.



E.A. MILLER, INC., RICK BLACK, TED MILLER

,





No. 97-4200

(

D.C. No. 94-NC-148B)

(D. Utah)
---
ORDER AND JUDGMENT
(*)
---
Before PORFILIO, KELLY, and LUCERO, Circuit Judges.
---
Submitted on the briefs:(**)

Plaintiffs-appellants filed numerous claims, under both state and federal law, related to their former employment with Defendant-appellee E.A. Miller, Inc. The district court dismissed each claim with prejudice except for Plaintiff Patricia Johnson's claim for breach of contract, which was dismissed without prejudice. Our jurisdiction over this appeal arises under 28 U.S.C. § 1291, and we affirm.

Because the parties are familiar with the underlying facts, we will not restate them unless necessary for the issue on review. Plaintiffs raise seventeen issues, many of which overlap.

A.

Ms. Johnson asserts that the district court erred in granting summary judgment on her claims of sexual harassment, sex, age, and religious discrimination, and retaliation. We review a grant of summary judgment de novo, applying the same legal standard as used by the district court. See Meyer v. Conlon, 162 F.3d 1264, 1267 (10th Cir. 1998).

Under 42 U.S.C. § 2000e-5(e)(1), a charge alleging an unlawful employment practice must be filed within 300 days of the last alleged discriminatory act. Ms. Johnson filed her charge of sexual harassment on May 24, 1993. Thus, the district court cannot hear her claims of sexual harassment unless she is able to allege at least one instance of such harassment on or after July 21, 1992. This she has failed to do. Although she alleges that other forms of discrimination occurred after that date, we are unable to find any allegation of sexual harassment, and as we stated in Martin v. Nannie and the Newborns, Inc., 3 F.3d 1410, 1415 (10th Cir. 1993), "[i]t is not sufficient merely that acts [involving sexual harassment] outside the required time limit had a continuing effect within the statutory time allowed for suit." As such, there was no error in granting summary judgment on this claim.

We turn to Ms. Johnson's sex discrimination claim. Title VII provides that "[i]t shall be an unlawful employment practice for an employer . . . to discriminate against any individual with respect to his compensation, terms, conditions, or privileges of employment, because of such individual's race, color, religion, sex, or national origin." 42 U.S.C. § 2000e-2(a)(1). Ms. Johnson's claim fails because she has not made a sufficient showing that the treatment she received by the defendants was because of her sex. Rather, it seems clear that the conflicts she experienced were the result of a serious difference in opinion over how health services were to be provided at E.A. Miller, Inc. The fact that Ms. Johnson both is female and disagrees with the wisdom of the company's business decisions does not state a claim for sex discrimination. See Brandt v. Shop 'N Save Warehouse Foods, Inc., 108 F.3d 935, 938 (8th Cir. 1997), cert. denied, 118 S. Ct. 850 (1998).

Ms. Johnson also asserts that the district court erred in dismissing her age and religious discrimination claims for failure to exhaust administrative remedies. However, contrary to her assertion, in the Tenth Circuit exhaustion is a jurisdictional prerequisite to bringing a Title VII action in federal court. See Jones v. Runyon, 91 F.3d 1398, 1399 n.1 (10th Cir. 1996); Khader v. Aspin, 1 F.3d 968, 970 (10th Cir. 1993). Thus we affirm the dismissal of these claims for substantially the reasons given by the district court. See District Court Order of August 23, 1995.

Ms. Johnson next asserts that the district court erred in granting summary judgment on her retaliation claim. To establish a prima facie case of retaliation, she must show "(1) protected opposition to discrimination . . . ; (2) adverse action by the employer; and (3) a causal connection between the protected activity and the adverse action." Jeffries v. Kansas, 147 F.3d 1220, 1231 (10th Cir. 1998) (quoting Sauers v. Salt Lake County, 1 F.3d 1122, 1128 (10th Cir. 1993)). She identifies the protected activity as complaining to the company's personnel director about sexual harassment and the adverse employment action as a meeting with management in which she was allegedly reprimanded for her inability to work with her supervisor, Defendant Rick Black. Her claim fails in part because she is not able to demonstrate a causal connection between the protected activity and the adverse employment action: the meeting with management occurred several months after her complaint about the sexual harassment. Her claim also fails because, notwithstanding this circuit's liberal definition of "adverse employment action," see Jeffries, 147 F.3d at 1231-32, the meeting itself does not constitute such action. See Burlington Indus., Inc. v. Ellerth, 118 S. Ct. 2257, 2268 (1998) ("A tangible employment action constitutes a significant change in employment status, such as hiring, firing, failing to promote, reassignment with significantly different responsibilities, or a decision causing a significant change in benefits."); Burnett v. Western Resources, Inc., 929 F. Supp. 1349, 1362 (D. Kan. 1996) ("One isolated instance of an unwarranted reprimand does not rise to the level of a cognizable retaliation claim.").

B.

Plaintiffs Jaime Gorostieta and Esteban Rivera contend that the district court erred in granting summary judgment on their claims of national origin and disability discrimination.

The district court properly granted summary judgment on their national origin claims because, in their depositions, both Mr. Gorostieta and Mr. Rivera disclaimed any adverse employment action as a result of their national origin. Both expressly claimed that they were discriminated against only because of their work-related injuries. "[I]f a civil rights plaintiff concedes . . . that the sole reason for the discharge was a motive prohibited by a law entirely different from the one under summary judgment scrutiny, such a concession mandates grant of summary judgment as to the latter claim." Marx v. Schnuck Markets, Inc., 76 F.3d 324, 328 (10th Cir. 1996).

We turn to the disability discrimination claims of Messrs. Gorostieta and Rivera. To state a claim under the ADA, "a plaintiff must demonstrate: (1) that she is a disabled person within the meaning of the ADA, (2) that she is qualified, that is, she is able to perform the essential functions of the job, with or without reasonable accommodation, and (3) that the employer terminated her employment under circumstances which give rise to an inference that the termination was based on her disability." Morgan v. Hilti, Inc., 108 F.3d 1319, 1323 (10th Cir. 1997) (citations omitted). If a plaintiff fails to prove any element of his prima facie case, summary judgment is proper.

Messrs. Gorostieta and Rivera argue that they qualify as "disabled" persons because they were "regarded as" such under the ADA. See 42 U.S.C. § 12102(2)(C). However, we need not determine whether they meet the statutory definition of "disabled," because both are nonetheless unable to satisfy the other elements of a prima facie case of discrimination. Mr. Gorostieta has failed to show that he is "qualified" under the ADA. He was initially terminated for poor performance, after receiving numerous warnings both before and after the onset of pain in his hands over a two-and-one-half year period. However, after his brother-in-law interceded for him, the company agreed to reinstate him. When he reported to work, he presented a note from his doctor indicating that he needed surgery and, as a result, was told by both his supervisor and the personnel director that he could not have the job.

Mr. Gorostieta cites our decision in Hudson v. MCI Telecommunications Corp., 87 F.3d 1167 (10th Cir. 1996) for the proposition that "a reasonable allowance of time for medical care and treatment may, in appropriate circumstances, constitute a reasonable accommodation." Id. at 1169. However, he fails to note that in Hudson we upheld summary judgment against the plaintiff because she had "failed to present any evidence of the expected duration of her impairment as of the date of her termination." Id. We went on to state that an employer is "not required to wait indefinitely for [the employee's] recovery." Id.; see also Myers v. Hose, 50 F.3d 278, 283 (4th Cir. 1995) ("[R]easonable accommodation is . . . that which presently, or in the immediate future, enables the employee to perform the essential functions of the job in question.").

Although Mr. Gorostieta stated in his deposition that his doctor told him that his recovery would take one to two months, he did not communicate this information to the company, and the evidence is otherwise inadmissible as hearsay. "It is well settled in this circuit that we can consider only admissible evidence in reviewing an order granting summary judgment." Gross v. Burggraf Constr. Co., 53 F.3d 1531, 1541 (10th Cir. 1995).

Mr. Rivera is unable to establish the third element of an ADA claim ­ that is, an inference that the employer terminated his employment based on his disability. The employer claims that Mr. Rivera was discharged because he had committed a serious safety violation. The injury to his thumb which allegedly led the employer to regard him as disabled occurred nine months prior to the termination of his employment. Although his supervisors knew of his injury, he requested no accommodation and indeed was rated as "outstanding" in the quality and quantity of his work. Although Mr. Rivera denies committing a safety violation, he concedes (and there is ample evidence) that the employer believed that he had broken the rules. Thus, even if Mr. Rivera were to establish a prima facie case, he is not able to show that the employer's proffered reason for firing him was a pretext for discrimination based on his "disability." See McCoy v. WGN Continental Broadcasting Co., 957 F.2d 368, 373 (7th Cir. 1992) (Pretext "addresses the issue of whether the employer honestly believes in the reasons it offers.").

C.

All of the plaintiffs brought claims of intentional infliction of emotional distress against the defendants. Seven of the plaintiffs brought additional tort claims. The district court dismissed each of these claims under Fed. R. Civ. P. 12(b)(6), holding that Utah's Workers' Compensation law provides the exclusive remedy for the plaintiffs' injuries. We review de novo. See Ordinance 59 Assoc. v. United States Dep't of the Interior Secretary, 163 F.3d 1150, 1152 (10th Cir. 1998). Having read the briefs and the record, we agree with the district court that the plaintiffs have failed to show either that the injuries arose outside of the context of employment or that the employer actually and deliberately intended to injure them. It is not enough to show "[i]ntentional actions, coupled with knowledge that the injurious result was substantially certain to occur." Hirase-Doi v. U.S. West Communications, Inc., 61 F.3d 777, 786 (10th Cir. 1995) (citing Lantz v. National Semiconductor Corp., 775 P.2d 937, 939-40 (Utah Ct. App. 1989)).

D.

Five of the plaintiffs brought common law wrongful discharge claims. The district court dismissed these claims, finding that they were either preempted by Utah's Occupational Safety and Health Act ("UOSHA"), Utah Code Ann. § 34A-6-203 (1997), or failed to state a claim. We agree.

An at-will employee can state a claim for wrongful termination, if, inter alia, "the termination of employment constitutes a violation of a clear and substantial public policy." Fox v. MCI Communications Corp., 931 P.2d 857, 859 (Utah 1997). This is a limited remedy. See id. at 861 ("[I]f an employee reports a criminal violation to an employer, rather than to public authorities, and is fired for making such reports, that does not, in our view, contravene a clear and substantial public policy" because the disclosure "serves the private interest of the employer, not the public interest."); see also Peterson v. Browning, 832 P.2d 1280, 1282 (Utah 1992). In addition, any "public policy" actions which are based on a statutory cause of action are preempted. See Retherford v. AT&T Communications, 844 P.2d 949, 962-66 (Utah 1992).

Thus, to the extent that plaintiffs' wrongful termination claims are based upon UOSHA or the Utah Anti-Discrimination Act, Utah Code Ann. § 34A-5-107(15) (1997), they are preempted by those statutes. To the extent that the claims are based upon retaliation for internal company complaints (not communicated to public authorities), they do not implicate a clear and substantial public policy. To the extent that the claims are based upon retaliation for use of medical benefits, they are preempted by Section 510 of the Employee Retirement Income Security Act ("ERISA"), 29 U.S.C. § 1140. See Ingersoll-Rand Co. v. McClendon, 498 U.S. 133, 144 (1990) ("Congress intended § 502(a) to be the exclusive remedy for rights guaranteed under ERISA, including those provided by § 510."). We note that plaintiffs did not allege federal claims under ERISA, and thus the state law claims were properly dismissed.

Plaintiff Ofa Fiefia argues that she was wrongfully terminated based upon the false criminal accusation that she started a fight. The case Ms. Fiefia relies upon, Hodges v. Gibson Prod. Co., 811 P.2d 151 (Utah 1991), is distinguishable in that, unlike the plaintiff in Hodges, Ms. Fiefia's alleged conduct was not reported to public authorities. In view of Utah's narrow construction of public policies upon which a wrongful termination claim may be based, see Peterson, 832 P.2d at 1282, we cannot see a clear and substantial public policy violated by the company's alleged false accusation against Ms. Fiefia in order to justify firing her.

E.

Plaintiffs argue that the district court erred in dismissing claims against defendants Rick Black and Ted Miller and in dismissing their class action. We affirm both for substantially the reasons provided by the district court. See District Court Order of August 23, 1995. In addition, we note that any error would be mooted by our disposition of the substantive issues above.

F.

Plaintiff Antonio Rueda argues that the district court erred in denying his motion to intervene. We review a denial of permissive intervention for abuse of discretion. See City of Stilwell v. Ozarks Rural Elec. Coop. Corp., 79 F.3d 1038, 1042 (10th Cir. 1996). We find no such abuse here, as the settlement agreement relied upon by Mr. Rueda does not give him the right to sue on behalf of third parties, and Mr. Rueda does not assert any injury personally from the alleged breach of the agreement.

G.

Plaintiff Patricia Johnson contends that the district court erred in dismissing her state law breach of contract claim. However, since supplemental jurisdiction is a doctrine of discretion, see United Mine Workers v. Gibbs, 383 U.S. 715, 726 (1966), a district court may decline to exercise jurisdiction over a state law claim. See Thatcher Enter. v. Cache County Corp., 902 F.2d 1472, 1478 (10th Cir. 1990). Because all of Ms. Johnson's other claims were dismissed, the district court acted within its discretion in dismissing her remaining state law claim without prejudice.

Finally, Ms. Johnson argues that the magistrate judge abused his discretion in granting a protective order for a confidential document that was inadvertently delivered by the defendants to the plaintiff during discovery. We review for abuse of discretion, see Kidd v. Taos Ski Valley, Inc., 88 F.3d 848, 853 (10th Cir. 1996), and affirm for substantially the reasons given by the magistrate judge in his order. See District Court Order of December 31, 1996.

AFFIRMED.

Entered for the Court

Paul J. Kelly, Jr.

Circuit Judge
---
FOOTNOTES
Click footnote number to return to corresponding location in the text.
*. This order and judgment is not binding precedent, except under the doctrines of law of the case, res judicata, and collateral estoppel. This court generally disfavors the citation of orders and judgments; nevertheless, an order and judgment may be cited under the terms and conditions of 10th Cir. R. 36.3.
**. After examining the briefs and appellate record, this panel has determined unanimously that oral argument would not materially assist the determination of this appeal. See Fed. R. App. P. 34(a); 10th Cir. R. 34.1 (G). The cause therefore is ordered submitted without oral argument.
---

| Keyword | Case | Docket | Date: Filed / Added |

(27431 bytes)

(25115 bytes)
---
Comments to: WebMaster, ca10 [at] washburnlaw.edu.
Updated: February 26, 1999.
HTML markup © 1999, Washburn University School of Law.
URL: http://ca10.washburnlaw.edu/cases/1999/02/97-4200.htm.