| Keyword | Case | Docket | Date: Filed / Added |

(27048 bytes)

(20152 bytes)
---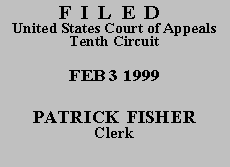 UNITED STATES COURT OF APPEALS
FOR THE TENTH CIRCUIT
---
SHERRY L. HODGSON,

Plaintiff-Appellant,

v.

KENNETH S. APFEL, Commissioner, Social Security Administration,

Defendant-Appellee.





No. 98-2067

(D.C. No. CIV-97-258-BB/DJS)

(D. N.M.)
---
ORDER AND JUDGMENT
(*)
---
Before PORFILIO, BARRETT, and KELLY, Circuit Judges.
---
After examining the briefs and appellate record, this panel has determined unanimously to grant the parties' request for a decision on the briefs without oral argument. See Fed. R. App. P. 34(f); 10th Cir. R. 34.1.(G). The case is therefore ordered submitted without oral argument.

Plaintiff filed an application for disability insurance benefits in 1991, alleging an onset date of July 12, 1991. Plaintiff indicated she was unable to work due to stomach problems, stress, and pain in her hands, especially with writing or typing. In connection with this application, plaintiff was evaluated by Dr. Hughson, a psychiatrist. The examination took place shortly after plaintiff's alcoholic son had been killed in an accident, leaving his young child in the care of plaintiff and her husband. Plaintiff told Dr. Hughson that she had been depressed for the past six years, which coincided with the worst of her son's alcoholism. By Dr. Hughson's assessment, plaintiff was "clearly depressed and still very much not finished with grieving over the death of her son. . . . At present, her depression is such that she could clearly not muster enough energy to devote to a paying job. However, she would be a good candidate for aggressive antidepressant, pharmacotherapy and psychotherapy . . . ." Appellant's App., Vol. II at 140. Dr. Hughson gave a diagnosis of "[m]ajor depression, single episode" and "[p]ersonality disorder, mixed, with dependent and passive and avoidant features." Id.

Plaintiff's 1991 application was denied on initial review in October 1991 and was denied again on reconsideration in March 1992. The agency concluded that plaintiff's hand pain was controlled with medication, that her stomach problems did not prevent her from working, and that, with medical treatment, her depression was not expected to last twelve continuous months. Plaintiff did not pursue a de novo hearing before an administrative law judge (ALJ) on her 1991 application. Instead, she returned to work in August 1992, where she remained until June 3, 1993.

In 1994, plaintiff filed the present application for disability insurance benefits, alleging an onset date of May 30, 1993. Plaintiff indicated she was unable to work due to neck pain, back pain, leg pain, tennis elbow, and arthritis. In her vocational report, plaintiff described her past relevant work as largely clerical and secretarial, involving a lot of work at a computer. She indicated that her past jobs required a total of two hours walking, two hours standing, and four hours sitting in a typical eight-hour day, as well as constant bending. Plaintiff stated that using the computer irritated her arthritis and sitting bothered her back and neck. She related that she had previously quit jobs due to health problems, explaining: "I have really tried to work and when the stress and pain cause so much absences that I have to quit I will recuperate and after a period of time go back to work and try again." Id. at 87.

Plaintiff's medical records indicate that she was treated by Dr. Altman, an orthopedic surgeon, from January 1992 through August 1996. Initially, plaintiff's complaints predominantly involved her right hand and wrist and her elbows. Dr. Altman diagnosed plaintiff with very mild osteoarthritis in her right hand, a ganglion on the DIP joint of her right index finger, and tennis elbow. Plaintiff continued to have problems with her left elbow through the spring of 1993, but thereafter her complaints centered primarily on her lower back and left knee. Plaintiff had arthroscopic surgery on her left knee in October 1993, but was complaining of pain again within a few months. An MRI of plaintiff's lumbar spine in 1994 revealed degenerative facet changes. Plaintiff subsequently received nerve blocks and facet injections in her spine, as well as injections in her knee, from which she received some temporary pain relief. Plaintiff took Darvocet regularly for her pain and told one physician that she would not be able to do her daily activities without it.

After plaintiff's present application was denied initially and on reconsideration, she requested and received a de novo hearing before an ALJ in December 1995. Plaintiff was represented by a nonattorney advocate at the hearing. She testified that she was not able to stand, walk, or sit for prolonged periods of time, and she asked to stand part way through the hearing. Plaintiff also testified that she was limited in her ability to bend and squat, and that her elbow problems flared up when she used a computer or typewriter. While plaintiff's past jobs entailed a lot of computer work, she testified that she rarely tried to type or work on a computer anymore. When asked the primary reason why she could no longer work, plaintiff listed her need to put her legs up to rest every half-hour, her need to take Darvocet regularly, her inability to sit or stand for prolonged periods, and her generally unreliable health.

On March 27, 1996, the ALJ issued his decision denying plaintiff's application for benefits at step four of the sequential analysis. See 20 C.F.R. § 404.1520 (describing the steps). The ALJ concluded plaintiff's back and leg problems constituted severe impairments, but determined they did not prevent her from doing a full range of light work. The ALJ did not mention plaintiff's problems with her hands or elbows, nor did he consider whether she had any mental impairments. The ALJ determined plaintiff could return to her past relevant work as a clerk/receptionist, secretary, data entry processor, or computer operator and, therefore, she was not disabled. Plaintiff subsequently retained an attorney and appealed the ALJ's decision to the Appeals Council. Plaintiff's attorney submitted numerous pieces of additional evidence to the Appeals Council. See id. § 404.970(b) (authorizing claimants to submit new and material evidence to Appeals Council relating to period on or before ALJ's decision).

Included in the additional evidence was a report by Dr. Fredman, a psychiatrist, who examined plaintiff in September 1996. He determined plaintiff had an eleven-year history of chronic depression and that her son's alcoholism and subsequent death, as well as her own physical pain and impairments, were important external stressors related to the onset of her depression. Dr. Fredman concluded the prognosis for plaintiff's depression was fair without treatment and good with treatment. He said she had a fair potential for sustained work activity, though her depression would cause problems handling the stress and pressure of work. Dr. Fredman concluded plaintiff "likely could perform one or two step repetitive tasks at a competitive rate and would not have significant difficulty interacting with coworkers or superiors." Appellant's App., Vol. II at 216. He noted plaintiff was uncomfortable when sitting during the hour-long interview and had to get up and walk around several times.

Also included in the new materials was a September 1996 disability evaluation of plaintiff performed by Ken Williams, a vocational expert. Based on plaintiff's performance on five different vocational tests, Mr. Williams concluded plaintiff was "in the high average range of mental ability, and solidly in the average range in academic skills, with excellent abstract reasoning ability," but she was "significantly limited with marked deficits in her ability to use her fingers, hands, and arms." Id. at 219. "Observation during testing and interview also showed she continually shifts and squirms when sitting; must stand and move around at approximate 20-25 minute intervals, and cannot stand for prolonged periods." Id. Mr. Williams concluded that plaintiff was totally disabled and had been so since May 1993, based on her observed limitations in reaching, handling and fingering, as well as her reported limitations in bending, stooping, climbing, kneeling and lifting, her periodic dizzy spells, and her fatigue.

The Appeals Council denied review after considering the evidence submitted to the ALJ and the additional evidence submitted to it. As to the new evidence, the Appeals Council stated: "To the extent this evidence can be found relevant to the period considered by the Administrative Law Judge, through March 27, 1996, the Appeals Council finds that it is not a basis for changing his decision." Id. at 6. The Appeals Council did not provide any further explanation of its evaluation of the new evidence, though it must have at least concluded that each piece of evidence related in some fashion to the period on or before the ALJ made his decision, because it did not return any of the evidence to plaintiff in accordance with 20 C.F.R. § 404.976(b)(1). Once the Appeals Council denied plaintiff's request for review, the ALJ's decision became the final decision of the Commissioner.

We review the Commissioner's decision to determine whether it is supported by substantial evidence and whether the Commissioner applied the correct legal standards. See Winfrey v. Chater, 92 F.3d 1017, 1019 (10th Cir. 1996). In determining whether substantial evidence supports the Commissioner's decision, we must examine the record as a whole, including the additional materials submitted to the Appeals Council. See O'Dell v. Shalala, 44 F.3d 855, 858, 859 (10th Cir. 1994). Plaintiff contends that the Commissioner's decision is not supported by substantial evidence and that the Commissioner made various legal errors in denying her application for benefits.

Our review of the Commissioner's decision is hindered by the Appeals Council's failure to provide any explanation of its evaluation of the additional evidence before it. An even greater stumbling block, and one which we conclude requires reversal and remand, is the ALJ's failure to make the findings at step four necessary for us to evaluate either the factual or the legal basis for his decision.

Step four of the sequential analysis . . . is comprised of three phases. In the first phase, the ALJ must evaluate a claimant's physical and mental residual functional capacity (RFC), and in the second phase, he must determine the physical and mental demands of the claimant's past relevant work. In the final phase, the ALJ determines whether the claimant has the ability to meet the job demands found in phase two despite the mental and/or physical limitations found in phase one. At each of these phases, the ALJ must make specific findings.

Winfrey, 92 F.3d at 1023 (citations omitted). When the ALJ assesses the claimant's RFC at the beginning of step four, the ALJ should "first identify the individual's functional limitations or restrictions and assess his or her work-related abilities on a function-by-function basis . . . . Only after that may RFC be expressed in terms of the exertional levels of work, sedentary, light, medium, heavy, and very heavy." Social Security Ruling 96-8p, 1996 WL 374184, at *1 (S.S.A. 1996).

Here, the ALJ failed to make the required findings at each phase of the fourth step. He did not analyze plaintiff's ability to do work-related activities on a function-by-function basis, he did not make any findings about the demands of her past relevant work, either as she actually performed it or as it is generally performed in the national economy, and he did not make any comparison of the demands of her past work with her remaining capabilities. Instead, the ALJ simply stated that plaintiff could do a full range of light work and that she could return to her past relevant work.(1) Without any of the required underlying findings, we can neither evaluate the factual and legal correctness of the ALJ's decision that plaintiff could return to her past relevant work, nor determine whether the new evidence submitted to the Appeals Council would have affected the ALJ's decision. Therefore, we must remand the action for further proceedings.

On remand, the ALJ should consider all of the evidence submitted by plaintiff and then make the necessary step four findings, as outlined above. If further record development is necessary to make the required findings, the ALJ should garner the necessary evidence. Because the ALJ's reconsideration of all the evidence on remand will likely moot plaintiff's current challenges, we will not address those here.

The judgment of the United States District Court for the District of New Mexico is REVERSED, and the case is REMANDED with instructions to remand to the Commissioner for further proceedings consistent with this order and judgment.

Entered for the Court

Circuit Judge
---
FOOTNOTES
Click footnote number to return to corresponding location in the text.
*. This order and judgment is not binding precedent, except under the doctrines of law of the case, res judicata, and collateral estoppel. The court generally disfavors the citation of orders and judgments; nevertheless, an order and judgment may be cited under the terms and conditions of 10th Cir. R. 36.3.
---
1. The ALJ did not even make a finding as to whether plaintiff's past work was performed at the light exertional level.
---

| Keyword | Case | Docket | Date: Filed / Added |

(27048 bytes)

(20152 bytes)
---
Comments to: WebMaster, ca10 [at] washburnlaw.edu.
Updated: February 4, 1999.
HTML markup © 1999, Washburn University School of Law.
URL: http://ca10.washburnlaw.edu/cases/1999/02/98-2067.htm.