| Keyword | Case | Docket | Date: Filed / Added |

(28334 bytes)

(23911 bytes)
---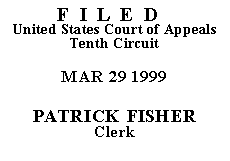 UNITED STATES COURT OF APPEALS
TENTH CIRCUIT
---
---
ORDER
AND
JUDGMENT
(*)
---
Before PORFILIO, KELLY and LUCERO, Circuit Judges.
---
Kim Trujillo-Cummings appeals the district court's grant of summary judgment for defendant Public Service Company of New Mexico ("PNM") on her retaliation claims under Title VII of the Civil Rights Act of 1964 and the Family Medical Leave Act ("FMLA"). We have jurisdiction pursuant to 28 U.S.C. § 1291, and affirm.

I

Trujillo-Cummings was hired as a Senior Media Representative by PNM in late 1993. Soon thereafter, she began to express frustration with the overly controlling supervision and unwanted confidences she received from her supervisor, Rick Brinneman. She repeatedly complained to PNM authorities that Brinneman's conduct constituted race and sex discrimination.

In March 1995, Trujillo-Cummings bore a child and took forty-five days of paid leave. Upon her return, she and Brinneman implemented an arrangement allowing her to work at home for up to two days per week. Brinneman terminated this arrangement after a short time. During the same period, Trujillo-Cummings requested an arrangement that would allow her to share her position with another employee. Her request was denied.

In August 1995, Trujillo-Cummings took an unscheduled leave from her job, leading to an exchange of correspondence regarding issues of medical leave, that the district court described in some detail:

[Trujillo-Cummings] submitted a note from her doctor that did not state the nature of her medical difficulties, but simply stated that Plaintiff would need to be on medical leave for at least six and possibly eight weeks. Before Brinneman received this note, he wrote a letter to Plaintiff on August 25 indicating that she needed to report to work by August 30 or resign her position. After Brinneman received the note, he wrote a second letter on August 28, denying Plaintiff's request for leave because the doctor's note provided insufficient information supporting the request. Brinneman enclosed a form for the doctor to fill out, that would provide the necessary information. Three days later, on August 31, Brinneman responded to a letter written by Plaintiff's psychologist, who had seen Plaintiff once and diagnosed her with Adjustment Disorder and supported her request for time off work. Brinneman's August 31 letter stated that PNM required second opinions from a medical doctor and a psychologist, concerning Plaintiff's condition. Brinneman also notified Plaintiff that while her request for leave was being considered, her position would not be held for her, but if the leave was granted she would be eligible to apply for any vacant position for which she was qualified.

Trujillo-Cummings v. Public Service Co., No. CIV 96-1186, mem. op. at 3-4 (D.N.M. Sept. 15, 1997) (hereinafter "Mem. Op."). Trujillo-Cummings did not attend the examinations that PNM scheduled for her. PNM terminated her employment as of September 22, 1995.

Having exhausted her EEOC remedies, Trujillo-Cummings sued, alleging violations of Title VII (on theories of both hostile environment and retaliation), the FMLA, and state law. The district court granted summary judgment for defendant on all claims.(1)

II

"We review a grant of summary judgment de novo, applying the customary legal standard under Fed.R.Civ.P. 56(c)." Vice v. Conoco, Inc., 150 F.3d 1286, 1288 (10th Cir. 1998) (citations omitted).

Trujillo-Cummings claims that the district court erred in granting summary judgment by "refusing to consider complaints made by the Plaintiff as protected actions if they occurred more than four months before removal and termination" and by "ignoring the pattern of antagonistic behavior toward plaintiff and other evidence of causation." Appellant's Br. at 1. "To establish a prima facie case of retaliation, a plaintiff must show: (1) protected opposition to discrimination; (2) adverse action by an employer contemporaneous with or subsequent to the employee's protected activity; and (3) a causal connection between such activity and the employer's action." Purrington v. University of Utah, 996 F.2d 1025, 1033 (10th Cir. 1993) (Title VII retaliation claims); see also Richmond v. Oneok, Inc., 120 F.3d 205, 208-09 (10th Cir. 1997) (applying same standard to FMLA retaliation claims). The third element of the prima facie case--causal connection--can be demonstrated either by direct evidence or by inferences stemming from "protected conduct closely followed by adverse action." Marx v. Schnuck Markets, 76 F.3d 324, 329 (10th Cir. 1996).

However, establishing a prima facie case does not meet a plaintiff's ultimate burden of showing illegal discrimination; rather, we apply to retaliation claims the burden-shifting framework set forth in McDonnell Douglas Corp. v. Green, 411 U.S. 792, 802-03 (1973). See Morgan v. Hilti, Inc., 108 F.3d 1319, 1323 (10th Cir. 1997) (FMLA retaliation); Berry v. Stevinson Chevrolet, 74 F.3d 980, 985 (10th Cir. 1996) (Title VII retaliation). Under this framework, once a plaintiff establishes a prima facie case of discrimination, defendant has an opportunity to rebut this prima facie case by offering legitimate business reasons for the adverse action. See McDonnell Douglas, 411 U.S. at 802-05 (1973); Medlock v. Ortho Biotech, Inc., 164 F.3d 545, 549-50 (10th Cir. 1999). Once defendant offers such reasons, a plaintiff must offer evidence that defendant's reasons are pretexts for illegal discrimination in order to carry his or her ultimate burden of establishing discrimination. See Medlock, 164 F.3d at 550.

"[P]rotected conduct closely followed by adverse action may justify an inference of retaliatory motive . . . . [T]he phrase 'closely followed' must not be read too restrictively where the pattern of retaliatory conduct begins soon after the filing of the . . . complaint and only culminates later in actual discharge." Marx, 76 F.3d at 329 (citation omitted). However, absent such a pattern of conduct, we have declined to infer retaliatory motive from adverse employment actions occurring three months after a protected action. See Richmond, 120 F.3d at 209.

We first conclude that the district court was correct in finding no prima facie case of retaliation based on Trujillo-Cummings' claim that she suffered increased harassment, the revocation of the work-at-home arrangement, and denial of her job-share request in retaliation for her complaints against Brinneman. Our independent review of the record confirms that plaintiff has offered no disputed material facts pointing to any increase in harassment following her complaints that could rise to the level of an adverse employment action. With respect to the work-at-home arrangement and job-share request, we agree with the district court's conclusion that the earlier complaints were too remote in time to support an inference of causation, and that the lack of any evidence of Brinneman's knowledge of the May 1995 complaint refutes any inference that the complaint caused the requests' denial. See Conner v. Schnuck Markets, 121 F.3d 1390, 1395 (10th Cir. 1997) ("Unless the termination is very closely connected in time to the protected conduct, the plaintiff will need to rely on additional evidence beyond mere temporal proximity to establish causation.") Here, in light of both the lack of temporal proximity and several intervening positive employment actions, including both a favorable evaluation and the initial grant of the work-at-home arrangement, Trujillo-Cummings does not meet her burden of establishing an inference of causation. See id.

Second, as to those claims for which she met her initial burden of offering a prima facie case of retaliation, the district court was correct in concluding that Trujillo-Cummings fails to prove intentional discrimination. The fact that temporal proximity may support an inference of causation sufficient to establish a plaintiff's prima facie case does not automatically demonstrate that a defendant's proffered justifications are pretextual. While a discharge is retaliatory if "the immediate cause or motivating factor of a discharge is the employee's assertion of statutory rights," Martin v. Gingerbread House, Inc., 977 F.2d 1405, 1408 (10th Cir. 1992) (citations and footnote omitted), appellant confuses the inference of causation sufficient to establish a prima facie case of discrimination with her ultimate burden of proving that the protected action was indeed the cause of the discharge. Once the employer meets the second step of McDonnell Douglas, the inference of causation drops out, and a plaintiff does not carry his or her burden until he or she offers some evidence of pretext in the employer's legitimate reason. See Conner, 121 F.3d at 1397 (refusing to read Marx as "holding that protected conduct closely followed by adverse action always justifies an inference of retaliatory motive, and thus summary judgment is always inappropriate when temporal proximity is established").(2)

Therefore, we agree with the district court that, assuming a prima facie case of retaliation, plaintiff has offered no evidence of pretext in PNM's denial of her request for medical leave. Trujillo-Cummings' refusal to comply with PNM's exercise of its statutory right to obtain a second medical opinion before granting FMLA leave, see 29 U.S.C. § 2613(c), is clearly a legitimate justification for its denial of that request.(3) Trujillo-Cummings' only attempt to demonstrate pretext in this denial appears to be her assertion that "[t]he exchange of correspondence over the last five or six weeks of her employment demonstrates a shifting approach to the employer's subtly hidden goal: termination of Plaintiff. The letters should be carefully read in sequence to understand the goal and the movement in that direction." Appellant's Br. at 14. After carefully reading the correspondence contained in the records, we can discern no "subtly hidden goal" indicative of pretext.

Trujillo-Cummings also appears to contend that the district court erred both in requiring her to show pretext and in finding no pretext with respect to her claim that her ultimate termination was retaliatory. Assuming again the existence of a prima facie case of retaliation, plaintiff cannot seriously contest that her refusal to show up for her job for over a month does not constitute a facially legitimate justification for her termination. Therefore, she must raise at least some evidence of pretext to survive summary judgment, because "an employee who requests FMLA leave [has] no greater protection against his or her employment being terminated for reasons not related to his or her FMLA request than he or she did before submitting the request." Gunnell v. Utah Valley State College, 152 F.3d 1253, 1262 (10th Cir. 1998). Although Trujillo-Cummings raises disputes of fact as to the precise nature of her employment status during the period following August 11, these disputes do not address the material propositions that she remained absent from her job for over a month without ever satisfying PNM's valid FMLA requests, and that she ultimately refused to return to work.(4)

We find no evidence of pretext here. Trujillo-Cummings argues that delay in ultimately filling her position and Brinneman's later departure from his position constitute evidence that business necessities did not in fact compel the immediate filling of her position. In light of PNM's efforts to return her to work and its uncertainty as to whether she would return, the delay in filling her position does not demonstrate pretext. Likewise, Brinneman's later transfer, pursuant to PNM internal promotion policies, fails to show that PNM's business justifications for indicating an intent to fill Trujillo-Cummings' position were pretextual. Nor do her own proffered reasons for refusing to attend two rounds of scheduled examinations show pretext on the part of PNM. Therefore, we agree with the district court that the summary judgment materials, viewed in the light most favorable to the plaintiff, fail to establish material issues of fact sufficient to support her retaliatory termination claim.

Finally, appellant's assertion that her claims should survive summary judgment based on a mixed motive theory, see Kenworthy v. Conoco, 979 F.2d 1462, 1470-71 (10th Cir. 1992), is without merit. Trujillo-Cummings fails to "introduce direct or circumstantial evidence that the alleged retaliatory motive 'actually relate[s] to the question of discrimination in the particular employment decision[s]'" at issue. Medlock, 164 F.3d at 550 (quoting Thomas v. National Football League Players Ass'n, 131 F.3d 198, 204 (D.C. Cir. 1997)). Because she presents no "evidence of conduct or statement by persons involved in the decisionmaking process that may be viewed as directly reflecting the alleged [retaliatory] attitude," her claim cannot survive summary judgment on a mixed motive theory. Thomas v. Denny's, Inc., 111 F.3d 1506, 1512 (10th Cir. 1997) (citations and internal quotations omitted).

We review a grant of summary judgment in a discrimination case to determine "whether the evidence, interpreted favorably to the plaintiff, could persuade a reasonable jury that the employer has discriminated against the plaintiff." MacDonald v. Eastern Wyoming Mental Health Center, 941 F.2d 1115 (10th Cir. 1991) (quoting Palucki v. Sears, Roebuck & Co., 879 F.2d 1568, 1570 (7th Cir. 1989)). We agree with the district court that plaintiff's evidence could persuade no reasonable jury that PNM retaliated against her for her exercise of protected rights under either Title VII or the FMLA.(5) Therefore, the judgment of the district court is AFFIRMED.

ENTERED FOR THE COURT

Carlos F. Lucero

Circuit Judge
---
FOOTNOTES
Click footnote number to return to corresponding location in the text.
*. This order and judgment is not binding precedent, except under the doctrines of law of the case, res judicata, and collateral estoppel. This court generally disfavors the citation of orders and judgments; nevertheless, an order and judgment may be cited under the terms and conditions of 10th Cir. R. 36.3.
---
1.The district court granted summary judgment for defendant on plaintiff's hostile environment theory, which Trujillo-Cummings does not appeal.
2. Although at least one circuit has implicitly criticized as unnecessary our use of the McDonnell Douglas framework in retaliation claims based on assertions of substantive statutory rights such as those established by the FMLA, see Diaz v. Fort Wayne Foundry Corp., 131 F.3d 711, 713 (7th Cir. 1997), that framework clearly remains the law of FMLA retaliation claims in this circuit. See Richmond, 120 F.3d at 209 (affirming grant of summary judgment on FMLA retaliation claim because plaintiff "did not carry her burden of showing that [employer's] proffered reasons for her dismissal were pretextual").
3.Although plaintiff raises a disputed issue of fact as to whether an initial FMLA certification was timely sent to defendant by her doctor, this dispute is not material and thus does not defeat summary judgment, as it is undisputed that plaintiff refused to comply with defendant's requests for second medical and psychological opinions.
4.Although the district court appeared concerned that PNM's letter of August 31, 1995, stating that Trujillo-Cummings would be allowed to reapply for vacant positions, could be construed as a potential violation of the FMLA, see Mem. Op. at 19 n.5, we agree with it that this statement cannot constitute a FMLA violation because Trujillo-Cummings never established her initial entitlement to FMLA leave. See 29 U.S.C. § 2614(a)(1)(B). Nor does this letter refute PNM's business justifications for requiring prompt coverage of her job duties.
5.We note that the district court was also correct in granting PNM's summary judgment motion on Trujillo-Cummings' state law wrongful termination claim. Under New Mexico law, such claims are governed by the same principles as her federal law retaliation claims. See Chavez v. Manville Products Corp., 777 P.2d 371, 376-77 (N.M. 1989).
---

| Keyword | Case | Docket | Date: Filed / Added |

(28334 bytes)

(23911 bytes)
---
Comments to: WebMaster, ca10 [at] washburnlaw.edu.
Updated: March 30, 1999.
HTML markup © 1999, Washburn University School of Law.
URL: http://ca10.washburnlaw.edu/cases/1999/03/97-2337.htm.