| Keyword | Case | Docket | Date: Filed / Added |

(23830 bytes)

(16421 bytes)
---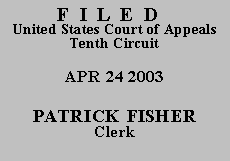 UNITED STATES COURT OF APPEALS
FOR THE TENTH CIRCUIT
---
MICKEY D. ADAM; CARL ALEXANDER; FLOYD W. ALLEN; JACK L. ALLEN; JAY E. ANGLIN; CHARLES E. ANNIS; PERRY R. RABB; AUTHER DEWAYNE BARNES; LARRY T. BARTON; K. B. BERGEN;

CHESTER BLACK; DAVID D. BLACKBURN; BILL BLUE; S. T. BOLDING; CLAUDE L. BOLLENBACH; JERRY ZANE BRITTAIN; BOBBY BURLESON;

ROBERT L. BURCH; ED C. BURR; GORDON W. CALERWOOD; JOSEPH E. CAMPBELL; JOE E. CANTRELL; OLEN M. CARR; L. H. CHILDRISS; MADISON H. CLINTON; JIM O. COFFMAN; GERALD COLEMAN; DON COMPTON; JOE DAVID COOK; JOE COOKSON; ALLEN CORDER; CHARLES D. CRABTREE; ROGER A. CRANE; DELBERT L. CROUCH; WALTER CROW; JIMMIE DAVID; JONANN DAVIS; JOHN H. DAVIS; QUTHER LEE DAVIS; QUINTON DAVIS; JIMMY A. DOANE; MICHAEL D. DUGGAN; JAMES R. DUNCAN; WILLARD J. EDGE, SR.; WANDA ELLIOTT; LUE E. ELLISON; FRANK EVERETT; AMOS HENRY FARR; KENNETH E. FERGARSON; DON FIELDS; J. D. FILIPSKI; ROBERT E. FOLTZ; JAMES C. FOX; FRANCIS JAMES FRECHER; B. W. FREEMAN; ARTHUR L. GARNER; JOE GIST; ROBERT U. GLANDON; JOHN B.

No. 02-6246

D.C. No. CIV-01-418-M

(Western District of Oklahoma)

GLATIAN; ALTON GRANT; JACK C. GREEN; MONTE M. GREEN; DONALD A. A. HALL; THOMAS M. HAMILTON; J. W. HAMMANS; RONNIE G. HAMMOCK; DON A. HANLEY; JAMES E. HARDIN; TOMMY J. HARRIS; MIKE HARRISON; GEORGE HAUGEN; KARL HELLEN; LARRY G. HENISEY; DONALD R. HENLEY; JAMES R. HENLEY; LARRY L. HILLYARD; BILL HOLLARS; DON L. HOOD; FRED HORN; L. D. HORSTKOETTER; VIRGIL HOUSLEY; CURTIS D. HUGGINS; ROBERT E. HURST; DAVID IRWIN; DONALD M. JAMES; STEPHEN J. JANTZ; MERLIN JOHNS; PAUL N. JOHNSON; RONALD L. JOHNSON; JAMES R. JONES; LEE R. KEENER; LARENCE W. T. KELLY, JR.; L. D. KIRK; JUANITA KIZZIAR; ELMER R. KLEPPEL; RONALD G. KNOX; SAMUEL F. LAFFOON; KENNETH LANDES; TOM H. LAVALLEY; WALTER LOY LEE; FRED LEVALLEY; JIM E. LOWER; JOHN MCBRIDE; CLIFFORD O. MCCALL; RICHARD MCVAY; CLAY C. MILLER; JERRY C. MILLER;

DOYLE MILLS; WILLARD MILLS; CARL D. MORELAND; DANNY W.

MULLINS; DEAN P. NEAL; ROBERT DALE NEELY; CHARLES D. NEWTON; ANTHONY NICHOLS; DOUGLAS A. NICHOLS; ROBERT L. OARD; JIM D. PARKER; L. W. PARKER; LIBERTY W. PARKER, JR.; BOBBY R. PERRY; GARRY PIERCE;

JOHNIE L. POTTS; DON D. POWELL; DONNIE POWERS; DAVID D. PRUITT; ROBERT L. QARD; JAMES T. RANDOLPH; MICKEY R. RAYBURN; THOMAS R. RICHARDSON; VERNON L. RIDDLE; K. D. RISINGER; PAUL ROARK; GLYNN R. ROBERTS; ELMER L. ROBERTS; BILL D. ROBINS; DANIEL PAUL ROBINS; WOODROW F. ROBINSON; WILLIAM L. ROGERS; HAROLD DEAN ROLAND; JIM ROLLER; WILLIAM R. ROSENTHAL; DON BERR ROUSH; ARVIL G. RUDD; DON SANDS; DON SAVAGE; L. DUTCH SCHNEIDER; HARLEN T. SCOTT; BILL D. SHOBE; HERMAN H. SKELTON; GLEN SLAUGHTER; JOHN WAYNE SMITH; KENNETH SOUTHARD; JERRY STURGEON; NORMAN TALLY; RUSSELL TAYLOR; SEQUOYAH JOHN TAYLOR; RONALD L. THOMAS; E. L. THOMPSON; JACK TILLERY; HOWARD TRIBBLE; CLYDE J. TUCKER; WILLIAM J. TUCKER; BILLY K. VILLINES; JAMES EVERETT VILLINES; STEVEN R. WAGNER; DONALD GENE WALLACE; FRANK J. WARD; EARL WARNER; JIM WASHBURN; CHARLES W. WATKINS; ERNEST

L. WEEKS; CLYDE WELLS; ROBERT WHEALEN; JAMES WHITE; ELMO

WILKERSON; CLAYTON C. WILKINSON; JOE LEE WILLIAMS; SAMMY WILLIAMSON; KENNETH WOODRUM; T. J. YSBRAND;

Plaintiffs - Appellants,

v.

OKLAHOMA LAW ENFORCEMENT RETIREMENT BOARD, as set forth in

Oklahoma Statutes Title 47 §§ 2-300 et seq.; ROY ROGERS; LINDA AKER; SCOTT BEHENNA; RENDA REESE-DAVIS; MICHAEL DIXON; JIM KING; JUNE KLAASSEN; KEITH LEIMBACH; JAN MILLER; JAMES PETE PETERSON; HARRY ROSENGRANTS; KEVIN WARD; PHILIP R. KEY, each board members in their official capacity only,

Defendants - Appellees.
---
ORDER AND JUDGMENT(*)
---
Before EBEL, LUCERO, and O'BRIEN, Circuit Judges.
---
After examining the briefs and appellate record, this panel has determined unanimously that oral argument would not materially assist the determination of this appeal. See Fed. R. App. P. 34(a)(2); 10th Cir. R. 34.1(G). The case is therefore ordered submitted without oral argument.
Mickey D. Adam, other retired Oklahoma Highway Patrolmen, and some surviving spouses ("the Troopers") appeal a decision of the district court dismissing their complaint under Fed. R. Civ. P. 12(b)(6) as barred by the statute of limitations. Exercising jurisdiction under 28 U.S.C. § 1291 (2002), we conclude the issues raised are moot and dismiss the appeal.(1)
On March 8, 2001, the Troopers filed suit against the Oklahoma Law Enforcement Retirement Board and board members ("Board"), claiming the Board, in calculating the Troopers' retirement benefits, violated their rights under the Oklahoma and U.S. Constitutions. The Troopers requested injunctive and declaratory relief.(2) When the Troopers were hired, prior to July 1, 1980, Oklahoma law provided that after twenty years of service they would be eligible to receive a retirement benefit, payable monthly, calculated against one-half of the prevailing annual base trooper salary.(3) On July 1, 1980, an amendment to this provision took effect and applied to all troopers eligible for retirement after the date of enactment.(4) It altered the means of calculating the retirement benefit, effectively lowering the monthly benefit as compared to the pre-1980 method of calculation. The Troopers challenged the application of this amendment to their retirement benefits, which they claimed were vested before July 1, 1980. None of the Troopers had retired prior to July 1, 1980.
The district court concluded the Troopers' cause of action arose on July 1, 1980, the effective date of the challenged amendment. Because the Troopers' complaint was filed more than twenty years after this date, the district court dismissed the Troopers' state and federal constitutional claims as time-barred under the statute of limitations contained in Okla. Stat. tit. 12, § 95.
As a preliminary matter, the Board argues this case is moot because the relevant statutes were amended after the district court rendered its March 5, 2002 decision. We review the issue of mootness de novo. Faustin v. City and County of Denver, 268 F.3d 942, 947 (10th Cir. 2001). "Mootness is a threshold issue because the existence of a live case or controversy is a constitutional prerequisite to federal court jurisdiction." McClendon v. City of Albuquerque, 100 F.3d 863, 867 (10th Cir. 1996) (citation omitted). See also Faustin, 268 F.3d at 947.
It has long been settled that a federal court has no authority to give opinions upon moot questions or abstract propositions, or to declare principles or rules of law which cannot affect the matter in issue in the case before it. For that reason, if an event occurs while a case is pending on appeal that makes it impossible for the court to grant any effectual relief whatever to a prevailing party, the appeal must be dismissed.
Church of Scientology of Cal. v. United States, 506 U.S. 9, 12 (1992) (quotation marks and citations omitted).
The Oklahoma Legislature amended Okla. Stat. tit. 47, § 2-305 in its 2002 regular session.(5) The amendment, which took effect July 1, 2002, effectively resolved the Troopers' complaints concerning future retirement benefits they claim are due, granting the Troopers the relief they sought. This much the Troopers concede. However, the Troopers urge us to declare the Board's actions between July 1, 1980, and July 1, 2002, to have been unconstitutional. This we cannot do. "When a party seeks only equitable relief, as here, past exposure to alleged illegal conduct does not establish a present live controversy if unaccompanied by any continuing present effects." McClendon, 100 F.3d at 867. A "plaintiff cannot maintain a declaratory or injunctive action unless he or she can demonstrate a good chance of being likewise injured in the future." Beattie v. United States, 949 F.2d 1092, 1093 (10th Cir. 1991) (quotation marks and citation omitted). The Troopers have made no such showing.
Accordingly, we conclude the issues raised by the Troopers in their appeal are moot, and DISMISS the appeal.
Entered by the Court:
TERRENCE L. O'BRIEN
United States Circuit Judge
---
FOOTNOTES
Click footnote number to return to corresponding location in the text.
*.This order and judgment is not binding precedent except under the doctrines of law of the case, res judicata and collateral estoppel. The court generally disfavors the citation of orders and judgments; nevertheless, an order and judgment may be cited under the terms and conditions of 10th Cir. R. 36.3.
---
1.For the same reason, we dismiss the Troopers' appeal of the district court's denial of their Fed. R. Civ. P. 59(e) motion to reconsider.
2.Originally, the Troopers requested payment of unpaid retirement benefits, but later abandoned this claim without prejudice.
3.Okla. Stat. tit. 47, § 2-305 (1979).
4.Okla. Stat. tit. 47, § 2-305(A) (July 1, 1980).
5.The amendatory language is found in re-numerated subsections C and D of Okla. Stat. tit. 47, § 2-305 (July 1, 2002).
---

| Keyword | Case | Docket | Date: Filed / Added |

(23830 bytes)

(16421 bytes)
---
Comments to: WebMaster, ca10 [at] washburnlaw.edu.
Updated: April 25, 2003.
HTML markup © 2003, Washburn University School of Law.
URL: http://ca10.washburnlaw.edu/cases/2003/04/02-6246.htm.