| Keyword | Case | Docket | Date: Filed / Added |

(28085 bytes)

(17342 bytes)
---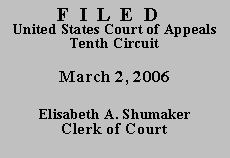 UNITED STATES COURT OF APPEALS
TENTH CIRCUIT
---
CHIBUEZE C. ANAEME,

v.



STATE OF FLORIDA; STATE ATTORNEYS OFFICE, Jacksonville, Florida; HARRY L. SHORSTEIN, Individually and in his capacity as State Attorney with the State Attorneys Office, Duval County, Jacksonville, Florida; SHANNON HEATHER PADGETT, Individually and in her capacity as Assistant State Attorney with the State Attorney's Office, Duval County, Jacksonville, Florida

; JONATHAN SACKS, Individually and in his capacity as Assistant State Attorney with the State Attorney's Office, Duval County, Jacksonville, Florida; DEPARTMENT OF CORRECTIONS, FLORIDA, Duval County, Florida; JACKSONVILLE SHERIFF'S OFFICE, Florida, et al; JACKSONVILLE POLICE DEPARTMENT, Florida, et al; PRE-TRIAL DETENTION FACILITY, Duval County; JAMES I. MONTGOMERY CORRECTIONAL CENTER; NATHANIEL GLOVER, JR., Officer, Individually and in his capacity as Sheriff with the Jacksonville Sheriffs Office/Jacksonville Police Department; K. COPELAND, Individually and in her capacity as Lieutenant with the Jacksonville Sheriffs Office/Duval County Pre-Trial Detention Facility, Jacksonville, Florida; OFFICER FOWLER; OFFICER HENDERSON; OFFICER JESS; OFFICER WOLLITZ; OFFICER SMITH; JOE SCOTT; OFFICER LEONARD; C.G. BLUNT; OFFICER MESSICK; D. BRANTLEY; OFFICER SCOTT, individually and in their capacities as Sergeants/Duval County Pre-Trial Detention Facility, Jacksonville, Florida; OFFICER ROBERT; FRED FLINTSTONE; R.W. REONAS; M.J. POWERS, individually and in their capacities as Officer(s) with the Jacksonville Sheriffs Office/Jacksonville Police Department and the Responding, Arresting and Reporting Officer(s); R. SHINHOLSER; OFFICER AUSTIN; S. PAGE; J. GRIFFIS; OFFICER BEESON; OFFICER TOLLIVER; J.M. CRUMP, II; OFFICER MCDUFFIE; J.A. WOOD; OFFICER WARREN; OFFICER GLEN; OFFICER SALANOS; OFFICER CHAPPELL; A. GORDON; OFFICER PRESCOTT; R.L. GREEN; W.M. FIELDS; OFFICER BLANTON; OFFICER SANBORN; OFFICER CAMPBELL; FRANCIS R. COTTON; OFFICER MCDONALD; M.L. GRADY; C.R. SCARPINATI; T. ATTAWAY, individually and in their capacities as Officer(s) with the Jacksonville Sheriffs Office/Duval County Pre-Trial Detention Facility, Jacksonville, Florida; MS. FULSORD; MS. WILLIS, individually and in their capacities as employees of the Jacksonville Sheriffs Office/Jacksonville Police Department; NURSE MAYES; NURSE PHILLIPS; P. BROOMFIELD; NURSE BAZELLE; DENISE HUNT; NURSE JENKINS; NURSE BROWN; NURSE RHOME; NELSON AGUILAR; BRENDA LUNA; GOODMAN; individually and in their capacities as medical personnel at the Duval County Pre-Trial Detention Facility, Jacksonville, Florida and at the James I. Montgomery Correctional Center; OFFICER ACOSTA; OFFICER DAWKINS, Individually and in their capacities as lieutenants with the Jacksonville Sheriffs Office/The James I. Montgomery Correctional Center, Jacksonville, Florida; OFFICER OWENS; OFFICER ARNETT; OFFICER BARRETT; OFFICER BROWN; OFFICER MANNING; OFFICER LEWIS; OFFICER MCWATER, individually and in their capacities as Sergeants with the Jacksonville Sheriffs Office/The James I. Montgomery Correctional Center, Jacksonville, Florida; S. WHITTY; L. HOLSTAD; L. RUSS; W.M. CLARY; V.D. PARRISH; OFFICER MUENCH; OFFICER WANSLEY; J. CHESTNUT; OFFICER GILPIN; OFFICER SMITH; OFFICER LUCAS; A.D. FLEMING; S. MORGAN; L. MALONE; OFFICER PARRETT; K.B. ROLLYSON; OFFICER OJEDA; J.M. BALDERSON; OFFICER RUPRIGHT; D.L. PINKSTON; OFFICER CONLEY; M. MOBLEY; R.S. WHITE; T. MEANS; D. MANN; OFFICER JOHNSON; OFFICER PFLEINGER; E. WATKINS; D. SULLIVAN; OFFICER LOVINGS; OFFICER THOMAS, JR.; D.S. BAILEY; J.L. COLLINS; OFFICER ANDREWS; OFFICER SWINDLE; OFFICER JOHNSON; OFFICER NIPPER; OFFICER WILLENBRECHT; T.D. TAYLOR, OFFICER THOMPSON, individually and in their capacities as officer(s) with the Jacksonville Sheriffs Office/The James I. Montgomery Correctional Center, Jacksonville, Florida; NURSE LONG; VALARIE THOMPSON; NURSE SMITH; NURSE JACKSON; NURSE HARRISON; NURSE HINES; NURSE MURRELL; NURSE LEMASTER; JUDITH SOFFLER, individually and in their capacities as medical personnel with the Jacksonville Sheriffs Office/The James I. Montgomery Correctional Center, Jacksonville, Florida; L.J. SPATES, individually and in his capacity as Director and employee with the Jacksonville Sheriffs Office/The James I. Montgomery Correctional Center, Jacksonville, Florida; STANDARD SECURITY SERVICES; JIM TAYLOR; K., DRYGEN; D.G. COLE; L.A. LAPOINTE, II, individually and in their capacities as Officer(s), Sergeants, Security Officer(s)/Guards respectively with Standard Security Services, Jacksonville, Florida deployed under contract with Greyhound Lines, Inc. at the Greyhound Bus Terminal on 10 N. Pearl St., Jacksonville, Florida; GREYHOUND LINES, INC.; WAYNE GUELTGOW; FRANCES FROST; MELINDA, individually and in their capacities as Terminal Manager and Customer Service Representative(s)/Agent(s) with Greyhound Lines, Inc., Jacksonville, Florida and Macon Georgia respectively; OFFICIAL REPORTERS, INC.; BOB MAYER, individually and in his capacity as Court Reporter/employee with Official Reporters, Inc., Jacksonville, Florida,





No. 05-2051

(D. New Mexico)

(D.Ct. No. CIV-04-976 JP/LFG)
---
ORDER AND JUDGMENT

(*)
---
Before KELLY, O'BRIEN, and TYMKOVICH, Circuit Judges.
---
After examining the briefs and appellate record, this panel has determined unanimously that oral argument would not materially assist the determination of this appeal. See Fed. R. App. P. 34(a)(2); 10th Cir. R. 34.1(G). The case is therefore ordered submitted without oral argument.
Mr. Chibueze Anaeme, a pro se litigant, appeals from the district court's dismissal of his complaint for improper venue.(1) Exercising jurisdiction pursuant to 28 U.S.C. § 1291, we affirm.
On August 31, 2004, Anaeme filed a "Complaint for Malicious Prosecution and Abusive Litigation" in the United States District Court for the District of New Mexico. He alleged the appellees violated his civil rights under 42 U.S.C. §§ 1981, 1983 and 1985. The alleged violations all stemmed from Anaeme's arrest, conviction and incarceration in Jacksonville, Florida.
The appellees moved to dismiss, arguing lack of personal jurisdiction, improper venue, and failure to state a claim for which relief can be granted. Anaeme did not respond to the motions.
On February 22, 2005, the district court dismissed the case without prejudice because Anaeme had made no allegations in his complaint that supported venue in the district of New Mexico. The court found Anaeme neither alleged any events occurred in New Mexico, nor any of the numerous defendants committed any relevant acts in New Mexico.
Appellees have urged this Court to dismiss this appeal, due to Anaeme's failure to respond to the motions to dismiss, and thus to preserve his appellate arguments supporting venue in the district of New Mexico. Nonetheless, we choose to address the issue presented by the district court's order, adhering to our oft-stated policies of construing pro se pleadings liberally, Ledbetter v. City of Topeka, Kan., 318 F.3d 1183, 1187 (10th Cir. 2003), and deciding cases on the merits as opposed to dismissing them because of procedural defects. Denver & Rio Grande W. R.R. Co. v. Union Pacific R.R. Co., 119 F.3d 847, 848 (10th Cir. 1997).
A "district court's determination of where [an] action may be brought involves an interpretation of the venue statute and is, therefore, a question of law subject to de novo review." Pierce, 137 F.3d at 1191. Once a determination has been made that venue is improper, the court's subsequent decision whether to dismiss the case or transfer to a proper venue is reviewed for abuse of discretion. Id.
Anaeme's complaint "is not founded solely on diversity of citizenship . . . ." 28 U.S.C. § 1391(b), rather, it alleges numerous violations of Anaeme's constitutional rights under 42 U.S.C. §§ 1981, 1983 and 1985. Federal courts have jurisdiction. But, under the general venue statute, the complaint may
"be brought only in (1) a judicial district where any defendant resides, if all defendants reside in the same State, (2) a judicial district in which a substantial part of the events or omissions giving rise to the claim occurred, . . . or (3) a judicial district in which any defendant may be found, if there is no district in which the action may otherwise be brought."
28 U.S.C. § 1391(b).
We agree with the district court that venue does not lie in New Mexico. First, it is apparent from the record that none of the appellees reside in New Mexico; indeed, Anaeme alleges all of the appellees are residents of, or businesses or governmental entities in, the state of Florida.(2) Second, according to Anaeme's complaint, all of the alleged events giving rise to his claims occurred in Florida. He alleges "[t]he action(s) and incident(s) that were resultant of this complaint occurred in Duval County, Florida within the territorial boundaries of the Federal District of the Middle District of Florida." (R., Doc. 1 at 6.) Third, there is a district "in which the action may otherwise be brought"--the Middle District of Florida(3)--and correspondingly, no indication in the record that any of the appellees "may be found" in New Mexico. 28 U.S.C. § 1391(b)(3).
For the first time on appeal, Anaeme contends the district court erred in dismissing the case because Greyhound Bus Lines engages in interstate commerce throughout the United States, including New Mexico, the named correctional facilities receive federal money, and the other appellees are associated with either the bus company or the correctional facilities. Anaeme did not raise these issues in the district court. Moreover, he did not allege them in his complaint. The arguments are presented for the first time to this Court. We do not consider arguments initially raised on appeal. Pierce v. Shorty Small's of Branson, Inc., 137 F.3d 1190, 1192 (10th Cir. 1998).
Because New Mexico was not a proper venue, the district court properly dismissed the case without prejudice. We decline to address the additional issues raised by the appellees dealing with personal jurisdiction, service of process, and immunity.
AFFIRMED.
Entered by the Court:
Terrence L. O'Brien
United States Circuit Judge
---
FOOTNOTES
Click footnote number to return to corresponding location in the text.
*. This order and judgment is not binding precedent except under the doctrines of law of the case, res judicata and collateral estoppel. The court generally disfavors the citation of orders and judgments; nevertheless, an order and judgment may be cited under the terms and conditions of 10th Cir. R. 36.3.
---
1. This is the second dismissal of Anaeme's complaint by the New Mexico court. His first civil rights action against the same defendants was dismissed without prejudice for failure to prosecute because Anaeme failed to properly serve the numerous defendants. Anaeme v. State of Florida, et al., 125 Fed.Appx. 265 (10th Cir. 2005).
2. Anaeme does allege three Greyhound Lines, Inc., employees were "residents of the State of Florida and Georgia." (R., Doc. 1 at 6.) This allegation has no bearing on our analysis or conclusion.
3. Anaeme has also filed two new complaints in the United States District Court for the Middle District of Florida. Both appear similar, if not identical, to this case in terms of allegations and parties. The first complaint was filed on February 25, 2005; the case is awaiting disposition pending Anaeme's response to motions to dismiss. (USDC - MDFL, No. 3:05-cv-00178, Doc. 1) The second complaint was filed on July 28, 2005. (USDC - MDFL, No. 3:05-cv-00712, Doc. 1).
---

| Keyword | Case | Docket | Date: Filed / Added |

(28085 bytes)

(17342 bytes)
---
Comments to: WebMaster, ca10 [at] washburnlaw.edu.
Updated: March 3, 2006.
HTML markup © 2006, Washburn University School of Law.
URL: http://ca10.washburnlaw.edu/cases/2006/03/05-2051.htm.